Nick Ortiz, Director Of Sports Media, WGMU
November 10, 2015
Photo Credit: Mason Athletics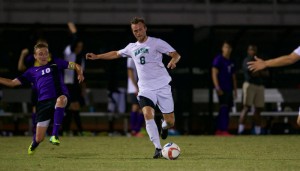 What looked like a lost season three weeks ago when the Patriots fell to Dusquene, has turned to a salvaged season, even though they were edged out by VCU to advance to the A10 Championship.
Coming into the last three games of the season, George Mason had to win out in order to possibly clinch a playoff spot in next week's tournament. The Patriots had been struggling to find their form all season where goals were hard to come by.
That all changed after a 3-1 defeat to Dusquene on October 21st. The men's team responded in exceptional fashion with a bounce back win against first place Fordham. This was the first of a three game win streak. This newly found form was sparked primarily due to the play of Dirks Henning. The German international has been red hot in the last three wins of the regular season, scoring five goals in the process.
Henning began his goal scoring spree against Fordham, scoring a brace. Then the German scored the lone goal against Davidson on Halloween night.
On senior night, this past Saturday night, the Patriots were down 0-1 at halftime. In the second half however, Henning put his team on his shoulders and scored two unanswered goals to beat fourth place Rhode Island.
The first goal came within three minutes of the beginning of the second half as Henning took on the entire Rhode Island defense and slotted the ball into the bottom corner of the net.
The Patriots wasted no time in sealing the game winning goal as Henning scored his brace two minutes later. This time, he had help from his fellow countryman Daniel Hoffman.
Dirks Henning ends the regular season as top scorer for the Patriots with seven goals.
With the A10 tournament starting on November 12th, had George Mason clinched, they would have been a force as they have proven to be a formidable opponent. The top eight teams were lucky they did not have to face a George Mason side that had finally found their identity. Otherwise, who know just how far the Patriots would have made it.