Naked – Talking Heads
By Tyler Mandell | Top Tracks: Bill, Sax and Violins, and Blind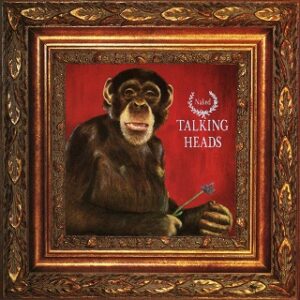 Talking Heads' Naked was intended somewhat as a "return to form" album for the group, attempting to bring the band's music and dynamic back to its artsier, more experimental roots by making music through jam sessions. After their previous two albums had embraced a more MTV-friendly pop-rock sound, this was a necessary move for the band. They attempted to reinvent themselves somewhat with this album. This was done by embracing world music in a way that was more authentic than their previous albums. With many hired foreign session musicians, the album was the most diverse and different in their catalog, with several songs incorporating world music styles and just overall different genres.
The album can be split up into two halves, with the first having a significant tropical/Latin/Caribbean influence, with salsa and funk tracks like the fantastic "Blind" and "Mr. Jones," warm and happy African soukous-dance tracks like "Totally Nude" and the album highlight "(Nothing But) Flowers," and the track "Ruby Dear" which seems inspired by Caribbean junkanoo carnival music. These are all great and incredibly original tracks and get the album to a promising start. However, it also introduces a significant problem: the album lacks the feel of a Talking Heads album. The band had incorporated world-music stylings before, like on their magnum opus album Remain in Light in 1980. Nonetheless, the influences of Fela Kuti and afrobeat on that album were incorporated into their new wave/punk-funk sound they had used on previous albums to a more significant effect.
By attempting to embrace world music in a more authentic way than previously, the band abandons their identity and genres, giving up their new wave roots and almost the genre of rock entirely in favor of a world-inspired art-pop that goes throughout the entire album. Many have accused Naked of feeling more like a David Byrne solo album in disguise. While the band had a lot of enthusiasm and passion for the project, they're almost unrecognizable in the album and seem buried under the session musicians. Surprisingly, the songs on the record were built out of jam sessions, though they lack the loose, improvisational feel that would be expected out of that detail. Not to say I dislike the album at all (far from it), but it does stand out as a black sheep in the band's discography.
                                                                                                                                                                                                                                           The second half of the album is where most of the criticism comes from. It is downbeat and less poppy than typical Talking Heads, along with having songwriting that leaves a bit to be desired. I think these songs still work well in a gloomy art-rock context that you may have to be a bit more patient with to really enjoy, but there are flaws. The songs here tend to address more political themes. Still, they can be very on-the-nose and almost preachy to an extent, like on "The Democratic Circus" and "Cool Water." However, there are still a lot of mesmerizing musical stylings and ideas on these tracks to make up for flaws. The two previously mentioned tracks, along with songs like "Bill" and (my favorite on this side) "Sax and Violins," feature somewhat gloomy and very atmospheric tracks that work well together and have a sad tone for the last few songs.
                                                                                                                                                                                                                                  Overall, the album is uneven and an odd way to end the band's career. However, it should be commended for being ambitious and risky for an album so late in Talking Heads' career. There are many excellent pop songs in the first half, as well as more contemplative and moody songs in the second half that are worth checking out. It has its problems, and it isn't for everyone, but I think it's a good album. Maybe just not a good Talking Heads album.