100 Gecs – 1000 Gecs
By Matthewos Mesfin | Top Tracks: 745 sticky, money machine, stupid horse, xXXi_wud_nvrstøp_ÜXXXx, ringtone, hand crushed by a mallet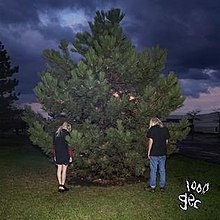 It's been over two years since 100 Gecs, the duo composed of Dylan Brady and Laura Les, released their debut album 1000 Gecs. Regardless of what you feel about the duo or their music, it's no question that the project's impact made waves. Though not the first modern act to combine the pop formula with elements of EDM and trap, there was a uniqueness to their approach to it. While the avant-pop music of artists like Charli XCX, SOPHIE, and PC Music took a more mature and adult route, 100 Gecs was very much the opposite. The music sounded childlike, from it's pitched-up vocals to the ironic braggadocio of the lyrics, and the use of abrasive, distorted sounds throughout the album read as adolescent angst more than anything.
Two years later, their sound, and the resulting subgenre that would be born from it (does Hyperpop sound familiar…) would be refined by better singers, better songwriters, and feature more meticulous crafting. Regardless, that should not take any credit away from 100 Gecs; 1000 Gecs is every bit as fun, catchy and distinctive as it was, and hopefully, will continue to be.
1000 Gecs owes its eccentric sound to a lot of sources; the bass and metallic drums from bubblegum bass and deconstructed club, the hi-hats and other percussive sounds derived from modern trap beats, the faux machismo that is a staple of hip-hop, early 2000s-inspired trance and electro-pop music, and most intriguing of them all: the ska inspiration behind the track "stupid horse." It combines all of this within it's relatively short twenty-three minute runtime, all of which is amped up to a ridiculous level.
Despite all the genuine musical artistry the duo poses, the album never feels pretentious. The constant juxtaposition between their serious talent and the unserious music they make gives the album its very unique character and sound. It's because of this that songs like "I Need Help Immediately" and "gecgecgec," which are essentially joke tracks, work within the context of the album.
The hooks on 1000 Gecs are ear-wormy, the beats bang, and they manage to do a lot with a little. The album is just short enough to where their beautifully crafted gimmick doesn't run dry, and just long enough to work as a complete artistic statement for the duo. Though many have borrowed from their formula, 1000 Gecs is yet to be replicated, and probably won't be.
Favorite Moment: The really cool synth-line melody that begins around 0:52 on "gecgecgec" that they could have genuinely built a song around.
You can take a listen to 1000 Gecs here: