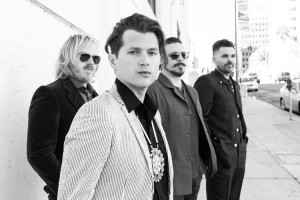 Long Beach, CA based band Rival Sons have been churning out blues-infused rock and roll since 2009. They've put their stamp on the rock scene with a refreshing old-school ethic of hard work and dedication to putting on top-notch shows, along with heavy touring. Their latest album "Great Western Valkyrie" was released this past June.
WGMU DJ and Director of Media Relations, Taylor Boyd, had a chance to talk with the band backstage before one of their recent concerts.
*****
How did all of you first meet?
Michael Miley: He [Scott Holiday] found Jay [Buchanan] on Myspace and I was already friends with Jay. The core formed and then we brought on Dave [Beste] last year.
What was the first rehearsal like? Did you know immediately that this group was going to work?
Scott Holiday: We knew right away after we played "Memphis Sun."
When did you realize that you were good at what you do, good at making music?
Miley: I'm always trying to improve.
Jay Buchanan: I knew after seeing other bands play and seeing that I could do what they doing. I used them as a measuring stick.
Dave Beste: Same, I used other bands as a measuring stick.
Have you always wanted to be a musician?
Buchanan: Yes.
Miley: I wanted to play baseball. Then I knew I wanted be a musician once I played in high school and college jazz band.
Beste: I wanted to be a clown when I was younger.
Holiday: In my early teens I knew I wanted music to be my career.
How would you sum up the American leg of the tour so far?
Buchanan: New places, new people. We've been making gains, playing shows at home, and playing shows at places we've wanted to play, but haven't been able to.
What kind of preparation do you go through on the day of a show?
Buchanan: It's yoga for me.
Miley: Physical exercise, discussing the set-list, and getting focused.
Holiday: Sleep, signing merchandise, doing interviews like I am right now.
Are you excited about appearing on David Letterman?
Holiday: Yeah, it important for us. We're part of the last generation to grow up with late-night TV like Letterman.
Do you have a favorite venue of all the places you've played?
Beste, Holiday: San Francisco Fillmore.
Holiday: Yes, the Fillmore in San Francisco, there's a lot of history in that building. Shepard's Bush Empire is a good one. And what's that one in Norway? In Oslo?
Buchanan, Miley: The Rockefeller.
Miley: You get a good sound there.
Holiday: The Rockefeller, that's it.
How did you meet your producer Dave Cobb?
Holiday: He was recommended by some friends of ours and I share mutual interests with Dave. He's one of the coveted producers in Nashville right now.
Do you have plans for another album?
Holiday: We want to make a record as soon as possible, but it's off on the horizon right now. We're still focused on supporting the current record.
*****
For more on the Rival Sons visit their official website at www.rivalsons.com
Contact Taylor Boyd, DJ and Director of Media Relations at WGMU: tboyd4@gmu.edu