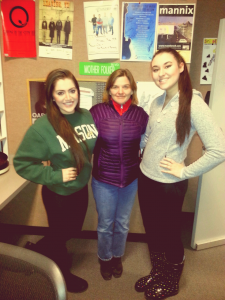 Karen Bontrager, a Mason alum and the founder of the annual No Fear in Love Race, stopped by Dictation to promote her annual No Fear in Love Race, taking place this year on February 28th at 6:30AM. at University Mall across campus. This six mile run starting at University Mall and going through the GMU Fairfax campus is a race to raise awareness about healthy dating relationships, and provides scholarships for teen dating violence survivors to attend school. To register for the race or for more information on Karens work, visit nofearinloverace.org.
Check out the clips from the interview below:
For more great interviews like this one with Karen, tune in to Dictation: Sundays at 6PM with Roxanne and Suzanne, as they give you the news, and a little bit more.