Kaitlyn Koegler
WGMU Blogger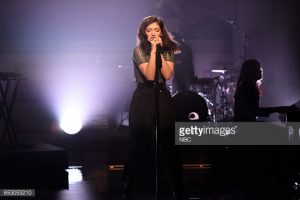 After nearly four years since the release of her last album, Pure Heroine, 20-year-old New Zealand singer Lorde will be dropping a new album this year.
Releasing her newest single "Green Light" March 2, Lorde is supposedly releasing her new album this summer per Pitchfork.
"Green Light is officially out in the world," wrote Lorde on her Instagram account, "I am so pleased to share with you that this song is the first from my sophomore record, Melodrama."
"Green Light" comes after a smash break-out from the young star. Her single "Royals" skyrocketed her into fame, with critics praising the then 17-year-old singer for her intricate lyrics and raw talent from someone of such a young age.
With many of Lorde's fans waiting with baited breath for her much-anticipated release, the singer has a lot of expectations to live up to this time around. Luckily for her, however, Green Light has been received well by fans and critics alike, and it looks like the unconventional, perfectly poetic singer will be showing the music world another album that will exceed their ever so high standards for this pop superstar.