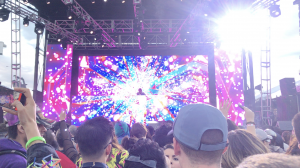 By: Rosemary Idisi
On October 20th at Laurel Park Racetrack, a number of artists performed at the 2018 Clubhouse Festival. The lineup included Grammy-nominated rapper Tyga, Platinum-selling artists Rich The Kid, Sam Feldt, Lost Kings, and Bonnie x Clyde. The headliner was Grammy-nominated DJ Steve Aoki.
The tailgate began at 12 noon with the first performance by Deerock. Following was Salamander, who played hot remixes and tunes. Bonnie X Clyde were up next, and they gave the crowd major electronic dance vibes with their tracks. Everyone was buzzing when Rich The Kid came on stage and performed hits "Plug Walk" and "New Freezer." Tyga followed, having entire crowd bobbing their heads with his signatures "Molly", "Taste",  "SWISH",  "Ayo" and many more. These performances were amazing; there was not a soul in the crowd not jamming out to the music.
After Tyga finished lighting up the stage, ten minutes went by, and Lost Kings came to perform. The crowd literally went wild when they played "When We Were Young",  "Phone Down", and "First Love".  After Lost Kings stole a piece of my heart, Sam Feldt came out and swept me off my feet. He killed it on stage and the entire crowd was dancing and singing along when he played his better known singles "Know You Better", "Show Me Love",  and "No Lie."
There was an intermission and most of the crowd went to watch the Maryland Million horse race. At the horse race, the DJ duo Lost Kings were walking around taking pictures with fans.  After the race, it was time to go back to the mainstage to enjoy the night's headliner: Steve Aoki.
The crowd grew three times larger than it was all day when it was time for Steve Aoki to perform. The beginning interlude started to play, and the masses had their phones out recording. The bass was pounding, the red lights were beaming, and Steve Aoki popped out on stage. The crowd was thrilled! Steve Aoki's entire performance was riveting. He had the entire crowd jumping around and then toward the end, his hit "Cake Face" came on and he started throwing cakes into the crowd. Steve Aoki gave the show of a lifetime and he shut the festival down. Clubhouse Festival was one for the books.