By: Jacqueline Reed | Edited By: Nicholas Reynoso | Photo Credits: Mimi Albano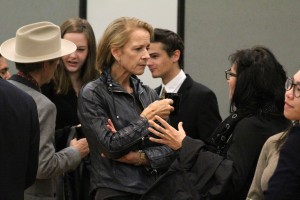 Former Governor of Maryland Martin O'Malley and Co-Creator of Showtime's The Circus Mark McKinnon were two of the many speakers featured in the Political & Policy Communication Forum, Tuesday, October 25, 2016, in Dewberry Hall in the Johnson Center. Sponsored by The Insight Committee of The Department of Communication, the forum encompassed the "impact, ethics, and the art of persuasion" regarding the ultimate, most notorious topic that is constantly in the news these days: the future President of the United States (POTUS), the race between republican candidate Donald Trump, democratic candidate Hillary Clinton, and other third party candidates like Jill Stein (other candidates in the discussion were not mentioned).
The purpose of the forum was to bring up the emerging conversation about the credibility of presidential candidates, the voters that are being gratified by false information, and the possible initiatives voters could take to govern the rights and wrongs of their decision-making, in regards to the upcoming polls. The interactive forum provided future communicators with the necessary tools that will lead them in the right direction and away from the current system of political discourse.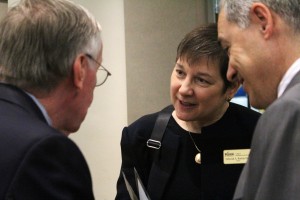 Professionals and students were welcomed by GMU President Ángel Cabrera, Deborah Boehm-Davis, Dean of College of Humanities and Social Sciences, and S. David Wu, Provost & Executive Vice President at GMU. Martin O'Malley opened with his keynote address, restating his persistent mantra to "be fearless". He advised listeners to make the most out of their relationships and to feel propelled in their passions. Throughout his political career, from serving as the Mayor of Baltimore to the Governor of Maryland, his services could not have been pursued without taking risks, having the willingness to change and adjust, and maintaining a continuous belief to believe.
The former mayor emphasized the "Believe" campaign in order to repair a broken divide between the people, and reinforce a safe and clarified conversation between the police and its city. A profound and an educated orator, O'Malley's performance was insightful and passionate, delivering its message in a way that acknowledged the need to address the faults, "the cynicism…the doubt… the belief" that we see in our communities, instead of relying on personal ignorance. He stated that, "people bored of politics, though fashionable, should not belong in democracy". O'Malley stressed the importance of educating oneself, being open, and being a part of the larger conversation. His career advice, "we have to acknowledge where we are in order to know where we're going", leaves listeners on a passionate cliff-hanger, asking future professionals for the transparency, the honesty, and the open-minded approaches that will benefit people and their skills as entrepreneurs.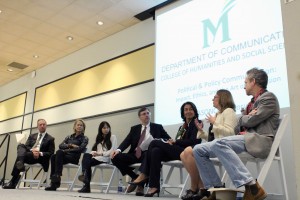 After O'Malley's speech was the panel discussion, featuring a diversified circle of political media professionals who specialize in communication in all realms. Michael Shear, White House Correspondent for New York Times, moderated the conversation.
With Martin O'Malley sitting in, the panel included:
Torie Clarke, Senior Vice President of Global Corporate Affairs for SAP; Linda Qiu, Staff Writer of PolitiFact; Emily Vraga, Ph.D. Political Communication Scholar at George Mason University; Arzu Tunaça Tarimcilar, Board of Directors at GAMA Holding; Closing Keynote Speaker, Mark McKinnon, co-founder of No Labels and co-creator of Showtime's The Circus
The key points the panel mentioned about the POTUS race, and the persuasive nature of candidates:
Falsified information, the importance of fact-checking
Global views, significance of the 2016 POTUS race on a global scale
Aristotle's philosophy of persuasion: ethos, pathos, logos
Maintaining objectivity in professional writings
Future elections in a technologically advanced and consumer-driven society
Advice for future policy communicators – structure policy under the people, not under the economy (O'Malley), admit mistakes and be an information-seeker (Clarke), communicate with common ground (Qiu), be honest and have clear foreign relations (Tarimcilar), be willing to reach out to non-traditional channels (Vraga), and build credibility by admitting flaws and being authentic (McKinnon)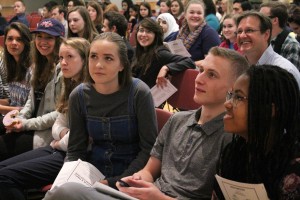 Following the panel discussion was Mark McKinnon, the closing keynote speaker who left the audience with inspiring takeaways that reflected his experiences in his relationships and career. McKinnon first pointed out that he is a lucky man. He said, "we're living in an amazing time", a time rich of diversity, policy, culture, and conversations that we would have not been able to have in the past. Admiring his uncle's philosophy, "if it's comfortable, it's wrong", McKinnon's advice is reminiscent of O'Malley's mantra of risk-taking, a repeated offer for audience members to be self-confident, to assure mistakes, and to fulfill life in its full capacity. With his experience as a previous musician, a chief media advisor, and now a co-founder of No Labels and co-creator of The Circus, his career path would not have succeeded without taking risks. Two memorable takeaways were: "Don't destroy relationships over ambition" and "Appreciate everyday". His closing remarks ended the forum with a humble sendoff, and a sense that anyone has the potential to influence others using open communication.
After the closing speaker was the Speed Mentoring Activity, which was facilitated by Angie Goff, Anchor and Reporter at NBC4. Featured professionals (not including those of the panel discussion, also involved) of the Speed Mentoring:
Chris Brewster, Special Counsel at Stroock & Stroock & Lavan LLP; Carolyn Cuppernull, Director of Sales and Business Development at XTAR LLC; Chris Colford, Communications Officer at The World Bank; Patrick Fn'Piere, Founder and President of The Public Management Group; Tom Hoog, Vice Chairman at Hill+Knowlton Strategies; Jim Moorhead, Managing Director and Consultant at Burson-Marsteller; Logan Rice, GMU Alumni (2016), Public Relations Representative at Northrop Grumman; Mark Root, Media Relations Director at Northrop Grumman; Tara Ruszkowski, Founder and Principal at Ruszkoswki & Associates; Rebecca Morgan, Senior Director of Media Relations and Advocacy at NAFSA; Danny Selnick, Senior Vice President at Business Wire; Chad Tragakis, Strategic Communications Consultant; Michael Dickerson, Public Relations Professor at GMU
This gave students the opportunity to ask questions of communication professionals and panelists about anything regarding messages, careers, internships, etc. Overall, the forum was an influx of politics, fact-checking, media accountability and clarity, and profound discussion that can possibly change the paradigms of future media channels.
More about the Insight Committee: http://communication.gmu.edu/co-curricular-activities/the-insight-committee
Department of Communication, GMU: http://communication.gmu.edu/
O'Malley's "Believe" Campaign: https://www.youtube.com/watch?v=LPqEg3Xh7xg
McKinnon's The Circus: https://www.youtube.com/watch?v=blbWr6P1gTU
Office of Student Media, featuring a full gallery of the forum: http://studentmedia.gmu.edu/
Disclaimer: Some of the quotes may have been paraphrased or used in a different context. All of the writing is from the experience of the author, and should not be taken as fact, but rather, as an individual observation. The article is not reflective of the views of WGMU Radio or any other Student Media organization, but of the author. Take note of possible biases or interpretations.