Nick Colletti
Sports Blogger, WGMU

February 25, 2016
(Photo credit: Getty Images)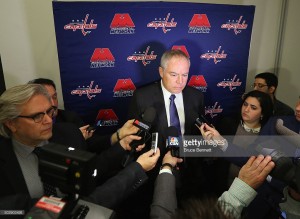 When George McPhee was rightfully relieved of duties following the cataclysmic 2013-2014 season, Capitals owner Ted Leonsis hired Brian MacLellan as the next Caps general manager. With only one season under his belt, MacLellan has shown he understands the game of hockey more than his predecessor and has already made key decisions on improving the roster.
For 17 years George McPhee made some very questionable decisions to say the least. Signing Jagr to a massive contract (Leonsis may have pressured him to do that), extending Semin's contract, and trading away first-round pick Filip Forsberg to the Nashville Predators for Martin Erat, a healthy scratch for most of his tenure here in Washington. McPhee built some great teams that thrived in the regular season, but failed to make any significant postseason runs due to lack of chemistry in lines and lack of leadership in the locker room, something that a general manager is accountable for.
Once MacLellan took the saddle in the summer of 2014 he immediately made key moves in the attempt to build a team with chemistry and cohesiveness. Acquiring both Brooks Orpik and Matt Niskanen were vital decisions to help improve Washington's blue line and add more than just depth, but premier talent that deserves spots on the D's top two lines. Orpik with his intimidating and edgy physical play and assaulting opponents as they try to gain territory outside of the crease. Niskanen with his supreme stick work and fatal fast slap shot from the point, shows that the Caps blue line could easily rival any other line in the league (I'm pointing at you Keith and Seabrook).
The next offseason exhibited an even better performance by MacLellan. Snatching TJ Oshie from the Blues and Justin Williams from the Kings has shown nothing but positive results. Mike Richards would later be picked up, adding yet another player with an impressive resume and another voice in the locker room. I have no doubt in my mind that this is the best Caps team in history. But in order to be truly special they'll need to win the big prize in June… and if they do, MacLellan deserves all the credit in the world for putting them there.