Becker Alshowk
Sports Blogger, WGMU
February 25, 2016
Photo credit: Getty Images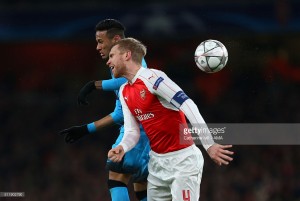 LONDON, ENG. —  "Baby I swear it's Déjà vu." Who knew that Beyonce was referring to Arsenal's same old ways, rather than her affection for Jay-Z back in 2006. Well, since 2006 was the last and only time Arsenal was a Champions League runner-up, and 'Déjà vu' was only nominated for a Grammy, it fits.
Arsenal's Round of 16 troubles are no secret, having been knocked out there 5 straight years and counting.
After miraculously making it out of this year's UCL group stage, and defeating Premier League top-seeded Leicester City before their Round of 16 date with Barcelona, momentum was on the Gunner's side.
Since Arsenal haven't won a major trophy since winning the Premier League in 2004, praying and counting on unnatural forces to produce a miracle, seemed obligatory for Gunner supporters going up against the defending UCL Title holders.
The game was at Emirates Stadium. The North Londoner faithful's packed the stands. It's the 10-year Anniversary of that Arsenal lone UCL Final appearance. The man that led them there in 2006, Thierry Henry, was in attendance. Alexis Sanchez was stressing all week, leading up to the game, how hyped he was to be playing his former squad.
The only problem is that Thierry Henry, who may be the greatest player in Arsenal's history, never won a UCL Title as a Gunner, but did in 2009 as a member of Barcelona.
But wait, it gets worse. In that 2006 UCL Final run for Arsenal, Henry became the 1st player on an English Team to score in the historic Santiago Bernabeu against Real Madrid. How is that worse you ask?
First, Real Madrid are Barcelona's arch Spanish League rivals.
Second, to briefly go off topic, this year's Copa Del Rey Final (Spanish Domestic Cup) between Barcelona and Sevilla, was originally scheduled to take place at the Bernabeu. But now reports say that Real Madrid are forbidding it because a 'last minute concert' is scheduled to take place there on the same day.   
Oh and by the way, a minor detail was missed. In that 2006 UCL Final, Arsenal just so happened to lose 2-1 to, drum roll please, wait for it, BARCELONA.
You can't script this stuff.
Sure, coming into game Barcelona were heavy favorites, having won 4 of the last 6  head-to-head meetings against Arsenal.
But the Gunners had Ozil this time, who has caused Barcelona trouble in the past when once a member of Real Madrid. Most memorably, when 'Owl Eyes', as BeIn Sports color Commentator Ray Hudson, refers to Ozil as, made a mesmerizing assist to Cristiano Ronaldo in 2012 vs. The Catalonians to secure the La Liga   Title.
Only problem was Ozil was a non-factor in the game. The Gunner playmaker was restricted to limited touches thanks to Barcelona's domination in possession.
Alex Oxlade-Chamberlain had a chance to put the Gunner's up in the 1st half, with an open shot in pinpoint range. But he slipped. I guess we can safely say that no one will be mistaking Oxlade-Chamberlain for Wilt Chamberlain, who scored 100 points in one game.
Halftime finished 0-0. There's still a 'Gunner's' chance. Arsenal Goalkeeper Peter Cech had his sights on a clean sheet.
Let's not forget to mention that Messi had never scored against Cech in his career. Key word is 'had'.
Arsenal put up a valiant effort defending throughout the game, but the Barcelona pressure finally broke through.
Messi finally scored against Cech.
Arsene Wenger post-game called his team 'naïve' for giving up that 1st goal on a counter attack.
Wait, it got worse.
Flamini came on as a substitute in the 2nd half for defensive purposes. Try to keep up because this is going to be quick.
Falmini subbed on in the 82nd minute, gives up a penalty in the 83rd, and Messi converts in the 84th .
2-0. Game over. 2nd leg back at the Camp Nou on March 16th .
Arsenal fans, it's not over yet
Like actor Jim Carey said in one of his movies, "So you're saying, there's a chance?!"
Arsenal realists: that quote from a movie called Dumb and Dumber.