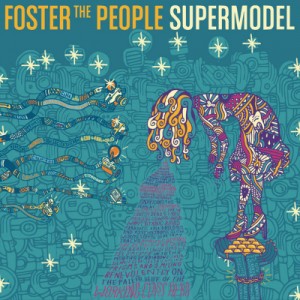 Foster the People
Supermodel
Columbia Records, March 14 2014
Reviewed by Jon Howard
Looking back at 2011, it really does seem as though indie pop sensation Foster the People came out of nowhere. Despite having been released nearly year earlier, their single "Pumped Up Kicks" suddenly gained massive popularity, crossing over from indie and alternative circles into mainstream radio airplay. By late May, "Pumped Up Kicks" had gone viral, garnering so much attention that Foster the People's debut album Torches was able to break into the top ten of the Billboard 200, sitting comfortably at #8. Now Foster the People have finally released their long awaited sophomore album, Supermodel.
After the enormous success of Torches, Foster the People largely decided to take a different approach while writing and recording Supermodel. The album takes a step away from Torches' synthesizer-heavy production for something a little more worldly. Opening track "Are You What You Want to Be" is Foster the People gone afrobeat. It's a bold new direction for the band, but they should be careful not to tread too close to Vampire Weekend's territory, or Foster the People could find itself on the losing side of many comparisons. Lead single "Coming of Age" is a definite high point of Supermodel, and it's less than a coincidence that the song is probably the most similar on the album to their material on Torches. "Pseudologia Fantastica" shows what happens when Foster the People explores MGMT-style psychedelia, while also drawing influence from 1990s shoegaze outfit My Bloody Valentine. Meanwhile, "A Beginner's Guide to Destroying the Moon" is about as close to grunge as a band like Foster the People can get, featuring crunchy guitars and shouted lyrics like "You'll never be whole / Until you lose control / And stop drinking the wine that's been dripping / From lips of the gluttons and envying their bloody teeth". Supermodel largely abandons the sound of Torches, instead looking to other bands for influence while adding in a bit of Foster the People's own flavor.
Though it may take some time to grow on you, Supermodel is certainly a good album. However, Foster the People have begun to tread dangerous waters. The band has expanded their sound beyond what we have grown to expect from them, a la Torches, but rather than evolve naturally they have tried to mimic their contemporary peers. By choosing to incorporate outside styles instead of developing its own, Foster the People have put themselves in danger of losing their own identity and falling behind the pack. Their new strategy has worked moderately well on Supermodel, but for their next album, Foster the People would do much better by looking inward rather than outward.
Recommended Tracks: "Are You What You Want to Be", "Coming of Age", "Pseudologia Fantastica", "Best Friend"