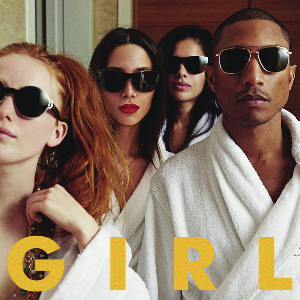 Pharrell
Girl
Columbia Records, March 03 2014
by Adam Weidemann
Pharrell had his hands on two of the biggest pop songs of 2013, but he has had a long and accomplished musical career. Girl is a departure from his hip hop production with The Neptunes, yet Pharrell has never been too distant from pop. He's sung choruses in a pleasant falsetto ("Beautiful", "Frontin") and rapped on pop songs ("Drop It Like It's Hot"), he even released a mixtape before his first album In My Mind. Girl capitalizes on his recent success as a pop singer with some very catchy tunes, including the biggest song in America right now and the album's first single, "Happy".
"Happy" is simple, like most of the album both lyrically and musically, but it's energy and sentiment has captured the attention of people of all ages. The album's second single and opening track, "Marilyn Monroe" certainly holds the potential to do the same. While listening to the album for the first time, I thought that many songs have potential to be radio hits, especially considering that Pharrell seems to be on a roll. From the strings on "Marilyn Monroe" and "Gust of Wind" to the driving horns on "Brand New" and the chanting hums on "Lost Queen" there is a lot to like on Girl. It features many top names that Pharrell has worked with before- Justin Timberlake, Daft Punk, Miley Cyrus and Alicia Keys. They mostly deliver, some more than others, (Timberlake on "Brand New", but that may just be personal bias). Pharrell's robot friends pay back Pharrell for "Get Lucky" with a vocoded bridge on "Gust of Wind". Alicia Keys lends her vocals to "Know Who You Are", a song whose opening lines and instrumentation reminded me of Stevie Wonder. Featuring Miley Cyrus, "Come Get It" should be a refreshing for her fans after a disappointing year. Yet the best Girl has to offer is Pharrell on his own, just putting out great, simple songs. The hidden track at the second half of "Lost Queen" is one of my favorite musical moments of the year, with Skateboard P showing off some vocal chops, as well as "Hunter", which sounds like it's right out of the 1970s, but feels right at home on this album. "Gush" is the album's biggest callback to classic Pharrell, but that's not what Girl is. Girl is a pop album that will be played at weddings and celebrations for quite some time, a la Justin Timberlake.
Pharrell has said that Girl is his ode to women, and nearly every track seems to back his statement up. But men can get down with this album too, sharing in Pharrell's appreciation for the fairer sex. Not to mention that Girl just seems to radiate a warm, happy vibe. Where it seems like many pop albums today are just collections of singles with no real cohesive theme, it seems as if Pharrell has made an album that could properly pair "Happy" with songs that could have come out 40 years ago (apart from a strange, out-of-place Duck Dynasty reference). The first word spoken on this album is "different". I'm not sure if Pharrell is saying that this album is different from his other work or just the current pop landscape but it would seem that both apply. It adds to Pharrell's eclectic catalogue that he has been building since the mid 1990s, and it should be a refreshing break from some of the other music on pop radio today. Girl is pretty darn good for what it is and is certainly worth a listen. If you like what you hear, it may be worth a few more.
Recommended Tracks: "Happy", "Marilyn Monroe", "Brand New", "Lost Queen​"