Nick Ortiz, Director of Sports Media, WGMU
November 3, 2015
Photo credit: Associated Press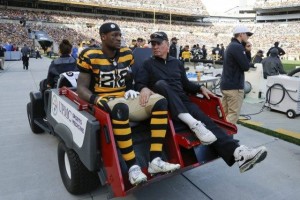 Going into to week nine, teams will be without key players due to injuries in week 8 that will prove costly for teams heading into the second half of the season. Since there were so many injuries reported, this week we will focus on the key injuries. Considering that injuries seemed to be a contagious virus going around the NFL. We saw several key players go down for the game and some for the season. Not only are these injuries bad for their respective teams, but for football as well.
To start us off, Ryan Fitzpatrick, quarterback for the New York Jets, suffered torn ligaments in his non-throwing hand. Just as the Jets' season looked to be headed in the right direction in terms of competing against the New England patriots. The jets now have to rely on Geno Smith to save their season up until the "Fitzbeard" comes back.
Keeping it in the AFC East, defensive end for the Miami Dolphins, Cameron Wake went down with a torn Achilles that will sideline him for the rest of the season. Miami began to look like the team I had predicted them to be coming into the season and under new head coach Dan Campbell, they started off 2-0 until going up against the undefeated Patriots. Unfortunately for Miami, they lost more than the game, they also lost their best pass rusher in Cameron Wake.
Steve Smith announced prior to the beginning of the season that this year would be his farewell season. like Wake, Smith went down with a torn Achilles. Ending his season and quite possibly, his career. You never like to see a player like Steve Smith end his career in such a way, but injuries are a part of the game and they can happen to anyone. If you ask me, he will be back next season.
Moving on to running backs. There were three top running backs that went down this week. For Arian Foster of the Houston Texans, he just cannot seem to stay healthy as he went down in a non-contact play. The Texans have already had a disastrous season to date, and the loss of Foster only makes this season a tougher pill to swallow for Texans fans.
Another team who has had a below par season is the Chicago bears. And my personal favorite running back, Matt Forte left the game Sunday afternoon and did not return. He suffered an apparent knee injury after taking a hit from Minnesota Viking Harrison Smith. Losing Forte means losing the season for Chicago. Forte will be coming back this season, the question remains as to when the star back will return.
The biggest loss in the running backs this week and for you fantasy football geeks out there, was Le'Veon Bell. For some, he was the first overall pick in your drafts, in not, he was definitely a top 5 pick. Regardless, he was carted off into the locker room after tearing his MCL.
The Pittsburgh Steelers are on pace to make it to the playoffs, but after seeing how lackluster their offense is without him in the playoffs, I do not believe that my super bowl pick will have what it takes to bring home the Lombardi trophy.