Nick Colletti
WGMU, Sports Blogger
Tuesday January 24, 2017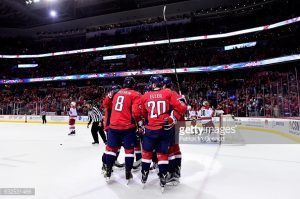 The Washington Capitals have been the league's hottest team for nearly a month. A potent offense, strong special teams, and the impenetrable Braden Holtby between the two posts have made the Caps on top of many league analysts' power rankings. Last night against the Carolina Hurricanes, the Capitals would score six goals and only allow one on a power play.   The goal scoring has been distributed by every line and even with defenseman John Carlson out the defense has remained to stand tall.
Before the season started, the Capitals were stronger on paper and even deeper than the previous season and it's starting to show. With the addition of former Montreal Canadien Lars Eller, the third line center position was filled by a player that would easily be a first/second liner on most squads around the league. Eller has also shown his value for the Capitals for his penalty-killing ability and sacrifice.
Philip Grubauer, the Caps backup goaltender to Braden Holtby, has fulfilled his role magnificently. Grubauer has gone 9-0-2 this season and has given his team confidence when Holtby needs the night off. With a dynamic duo in the net it is much harder for a team to steal two points away from Washington.
Both special teams have been impressively efficient as well. The penalty killing has been strong, consistent, and clutch in crucial segments of a game. The power play has found its mojo with clean tape-to-tape passes and rocketing shots from everywhere on the ice. As of now, it is very hard to see the power play start to recede when the chemistry between all the players is this synchronized.
Last year's Vezina winner Braden Holtby has been close to perfect ever since he was chased out of the net weeks earlier. Rebound control, flexible leg pad saves and watching the puck through screens have been executed tremendously by Holtby, getting in his opponent's heads and frustrating them endlessly. Holtby will be a Vezina candidate again and most likely the favorite to win it if he keeps this performance going.
Last year's Presidents Trophy winning team ended in yet another disappointing postseason for this snake-bitten D.C franchise. Will this year be different or will it be another premature exit with the Stanley Cup just out of reach? I am a strong believer in this year's team to go all the way judging by their play over the last month. If they can bring this consistency and momentum into the spring it's hard to see any team beating them, even those birds from Pennsylvania.