Nick Colletti
WGMU, Sports Blogger
Friday March 24, 2017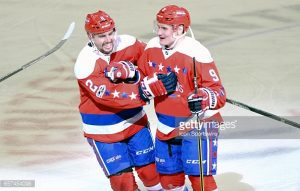 In what was the most significant game of this long season, the Washington Capitals win an OT thriller against Columbus to remain as the top seed of the Eastern Conference. A nail-biting contest between two heavyweights in their fierce division was a low-scoring feud and perhaps a first round playoff preview. A chess match ensued when both teams fought for every inch of ice and zone time and whoever blinked first would give up that crucial first goal.
It would be the Caps that blinked first, surrendering the first tally off a Seth Jones snapshot from the point that rose above a sprawling Braden Holtby and quieted the Red House faithful, but not for long. Dmitry Orlov would answer with a slap shot of his own from the blue line and made Verizon Center loud again, tying the game at one and forcing overtime.
3-on-3 play commenced for five minutes with both teams getting high-grade scoring chances. But within the frenzy of OT play, neither Vezina trophy candidate in Braden Holtby or Sergei Bobrovsky gave up a goal. It would have to take a shootout to determine the victor. T.J Oshie, who tormented Bobrovsky in the 2014 Winter Olympics in Sochi, outwitted the phenomenal goaltender with a five-hole dart that almost pierced the through the back of the net. It was a rather simple shootout play with very little stick work but the shot was executed brilliantly, proof that if you give Oshie just an inch of the five-hole, he will bury it.
The Blue Jackets would fail to score in any of the three rounds of the shootout and a vital two points was earned by the Caps. The Capitals now have a 3 point lead ahead of Columbus and a 2 point lead ahead of Pittsburgh. As the Stanley Cup Playoffs loom closer and closer, home ice advantage will be coveted and fought for until the very end of the season. Each team treats having a Game 7 on home ice as a significant commodity and worth fighting tooth-and-nail to obtain. The Capitals are no different. If the Capitals clinch home-ice advantage throughout the Stanley Cup Playoffs, a Game 7 in their barn may make their quest for the Cup a little easier and the immense pressure placed on them a little lighter.