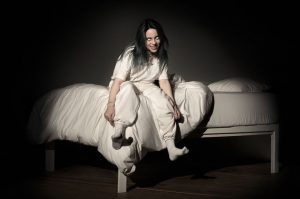 By Rosemary Idisi
Billie Eilish, a girl that grew up being homeschooled and joined a children's choir when she was eight years old is now a seventeen-year-old pop sensation. The singer and songwriter just released her debut studio album titled When We All Fall Asleep, Where Do We Go? (2019). 
 This album has fourteen songs and is a mixture of electropop and trap. Every track on the album was written by Eilish along with her brother, Finneas O'Connell who produced all the tracks as well.  
When this album was released, it received widespread praise and debuted at number one on the U.S. Billboard 200. This made Eilish the first artist born in the 2000s to have a number one album. 
In just the first week of its release, this album had 313,000 album sales, which made it the second-largest sales week for an album in 2019. The first being Ariana Grande's Thank U, Next (2019). This album also had been pre-ordered 800,000 times on Apple Music before its release and if that doesn't impress you, just know it also topped charts in fifteen other countries.  
Billie Eilish has a sort of jazz-like sound when she sings. She throws vocals like that over trap beats and piano asides and makes sinister sounds seem classy. Eilish gives whispering vocals and chilling melodies in this album and pairs them with very creepy music videos.  
This isn't the average album. That can be understood as soon as you play the first track on the album titled "!!!!!!!". This is the introduction to the album and isn't just any introduction… This intro is fourteen seconds long and contains slurp sounds of Billie taking out her Invisalign and saying things like, "I have taken out my Invisalign and this is the album."  
The lead single for the album titled "You Should See Me in A Crown" was released in July 2018, way before the album was released. This single reached number 41 on the Billboard Hot 100 and was inspired by the BBC show Sherlock. This track has a very dark tone combined with dubstep music and is truly a unique sound.  
The second single released for the album is "When the Party's Over". This track is slow and gives off a very sad mood. It opens with the lyrics, "Don't you know I'm no good for you? I've learned to lose you, can't afford to-" and is basically about Billie putting distance between herself and her lover. The music video for this single featured Billie crying thick and inky black tears. The video reached #1 on YouTube and was trending in several countries.  
The third single released titled "Bury A Friend" contained Eilish detailing her confusing relationship with the monster under her bed. This track has a Prismizer effect, which is known to manipulate pitch and frequency. This track was like a goth-R&B and had very unique sounds. The visual released for it was very creepy and contained Billie's face being grabbed by multiple gloved hands.   
The song "Wish You Were Gay" is Eilish singing about what it felt like to be rejected by a boy she liked and selfishly wishing he was gay. The lyrics, "-I just kinda wish you were gay-" were repeated in the song over a slow tempo of beats. 
A lighter, more playful track on the album is "Bad Guy". This single is the opening song for the album after the introductory track and is Billie's farthest reach toward pop. The lyrics, "-I'm that bad type, make your mama sad type, make your girlfriend mad tight, might seduce your dad type, I'm the bad guy, duh-" are thrown over an electric chime and snaps. Billie gives off Harley Quinn vibes in this song and this single topped charts in several countries.  
A word to describe this album? Different. This album is so different than the current norm in so many aspects and it is brilliant. Give it a spin.