Dan O'Brien
WGMU, Sports Blogger
Thursday November 24, 2016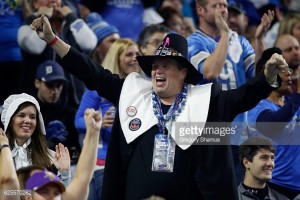 Detroit Lions 24, Minnesota Vikings 17
If this game were held in the first half of the season, there's no way I could pick against the Vikings. Unfortunately, as the weather got colder, so did the Vikings, having lost four of their last five. I don't favor them in a divisional matchup with a big audience going away to Detroit who have won five of their last six. I'm picking Detroit to win the early game on Thanksgiving and to establish a lead in the NFC North standings.
Dallas Cowboys 30, Washington Redskins 24
Dallas has without a doubt been one of the best teams in football, having a 9-game win streak and only losing in Week 1 by one point to the Giants. I expect this game to be a very physical one, as most NFC East rivalry games are. I anticipate that Dallas will have its clutch players make tough plays and I just don't see Washington as a team that can make those plays. I'm favoring Dallas at home in a tough game, but one that they'll win to extend their win streak to 10.
Pittsburgh Steelers 35, Indianapolis Colts 17
The Pittsburgh Steelers have reasons to worry at this point in the season. They're only at .500, lower than most expectations, and they've lost four of the last five. Although two of those games were against the toughest teams in football and the third was against the divisional rival Ravens, losses are still losses and there is still pressure on Big Ben. I believe this week will be the week for Ben to give his Steelers a much-needed jolt and I think they dominate going away against the underwhelming Colts.
New Orleans Saints 17, Los Angeles Rams 10
A lot has changed for the Rams this season, moving from St. Louis to LA and now moving from Case Keenum to Jared Goff. Unfortunately, one thing hasn't changed and that is their ability for sustained success. They had some positive signs early on in the season, but they just weren't able to capitalize and are looking more and more like a team that won't make the playoffs. The Saints haven't played to their potential, but I don't trust the LA Rams to win on Jared Goff's second start, going away nonetheless. I give the New Orleans Saints to show some signs of life against the underperforming Los Angeles Rams.
Tennessee Titans 24, Chicago Bears 13
The Tennessee Titans have encouraging signs for a brighter future after this season. Marcus Mariota has shown growth as he's taken his typically substandard team and brought them near .500. With his potential and DeMarco Murray serving as one of the surprise rushers in the league, there are things to smile about in Tennessee. The same can't be said for Chicago Bears fans. If you want a reason to smile as a Chicago native, avoid anything to do with the Bears and watch the Cubs winning the World Series on repeat. The Titans will have some positive moments and will beat the Bears while Chicago fans stop watching the unbearable Bears and will watch the World Series they recorded on DVR.
Atlanta Falcons 34, Arizona Cardinals 20
The Atlanta Falcons are one of the best teams in the NFC and even though their home record is nothing to gasp at, I think this week is when they recognize the need to win games in preparation for the playoffs. The Arizona Cardinals have some good weapons like David Johnson, who is running his way out of obscurity, but they haven't been able to utilize them to their true potential. I have the Falcons winning this one with strong plays from the pass game that have gotten them this far and will continue to take them to the playoffs.
New York Giants 23, Cleveland Browns 14
The New York Giants have a lot of reasons to smile. The defense is finally starting to meet early expectations, they are on a five-game win streak, and they are winning the close games that they were always losing last season. If they want to give themselves the Christmas gift of making it to the postseason, they're going to have to win this game, as they have tougher opponents ahead. The New York Giants don't fall asleep as they almost did last week, keeping the winless Browns winless and keeping the win streak streaking into next week.
Houston Texans 30, San Diego Chargers 27
The Houston Texans have problems this year, whether it be losing J.J. Watt after having him rush his recovery or underperforming in a division where a decisive team could have practically clinched the division. The Texans didn't perform well last week, but this is a home game and they are undefeated at home. The San Diego Chargers perform well enough to show signs of life, but choke as they've done the entire season and allow the Houston Texans to remain undefeated at home.
Buffalo Bills 28, Jacksonville Jaguars 0
The Buffalo Bills have been one of the teams that have been really surprising so far this season. They started out with two losses, won four straight, lost the next three, and won last week. It's worth mentioning the three latest losses came against good teams, but make no mistake that this team can win games. I think Buffalo fights angry in order to try and snag a wild card spot and they shutout the Jaguars at home to send a message to the rest of the league.
Baltimore Ravens 24, Cincinnati Bengals 20
The Cincinnati Bengals are quite frankly not playing like the team they have been in past years. In previous years, they've been in discussions about making the playoffs, but now the more appropriate discussion is whether or not they'll make it to .500. They've only won 2 of their last 8 games and Baltimore is going to play physical football at home with a divisional title on their minds. This will be a tighter game than usual for the Bengals but Baltimore outfights Cincinnati to win and garner serious talk about playoff chances.
Miami Dolphins 28, San Francisco 49ers 7
I have three teams in the NFL that I believe can be bet against nearly every week, barring an unusual circumstance like an injury to the opposing team or if two of the teams face each other. There are teams that have played awful, there are teams with very bad records, and then there are these three juggerNOTs. The first one is Cleveland because of a winless record and consistently mediocre play, the second one is Jacksonville for the very low win total they have, not just this year, but for many years. The last one is San Francisco, who have lost the last 9 games and have few reasons to be optimistic about the future. The Miami Dolphins have resurged and actually have a good shot at making the playoffs and I predict they absolutely manhandle the 49ers.
Seattle Seahawks 27, Tampa Bay Buccaneers 20
The Tampa Bay Buccaneers are an intriguing story in the NFL because they have been performing better than previous years, but just don't seem to perform consistently well. Tampa Bay is lucky they don't have to go into Seattle for this game because they would likely get crushed as Seattle is undefeated at home this season. I think Tampa Bay plays better than expected, but Seattle has already established itself as one of the NFC's best this season and plays like it this week. Seattle has only lost one of its last 8 games and they won't lose this one as they look to solidify their position to head into the playoffs.
New England Patriots 35, New York Jets 10
In a year of many unexpected events, the one consistency for the NFL has been the dominance of the New England Patriots. There was lots of doubt and concern early on this season because of Tom Brady missing the first four games because of suspension. Those doubts were put to rest when the backup quarterbacks won three of those four and New England has been consistently dominant this season with Tom Brady looking to be an MVP favorite. The Patriots have few things going wrong and the Jets have few things going right. The Jets just can't find a way to consistently win even though there is some talent there. Jets typically break the sound barrier, but this team can't even manage to break .500. The New England Patriots demolish the Jets at home and even though the Jets play abnormally physically football due to the divisional matchup, the Patriots coast to another win and the Jets show more signs of needing a different pilot.
Oakland Raiders 45, Carolina Panthers 38
This game should be a very interesting one to watch because my prediction would be much different if it were held last year. Last year, these two teams meeting would result in a decisive win for the Panthers as they would go on to the Super Bowl. However, the Oakland Raiders have come out this season as a potential winner in one of the most exciting divisions in football through the strong offensive play of young stars Derek Carr and Amari Cooper. The Panthers got off to an abysmal start to the 2016 season but have won 3 of their last four. I anticipate lots of offense for this game and Oakland does have a concern here because they are not as good at home as they are on the road. If Oakland can limit the mistakes on field like penalties, dropped balls, and other self-inflicting wounds, they can play a physical game against a physical team and extend their four-game win streak. Oakland's crowd will not disappoint as they will help their booming team to a decisive win against the resurgent Panthers.
Kansas City Chiefs 23, Denver Broncos 20
This game between two of the AFC West's best teams will be an absolute thriller to watch. Kansas City has many reasons to be excited as they have won 5 of their last 6 and have a good shot at making it to the playoffs as a wild card. Denver has not played poorly, as they are 7-3 and weapons on their defense have kept them relevant even when things got shaky on offense. However, I predict that Kansas City, under the leadership of Alex Smith, has been so underestimated that they will go to Denver and eke out a memorable victory over the Denver Broncos.
Philadelphia Eagles 28, Green Bay Packers 14
On paper, this should be a relatively competitive game, since Philadelphia is 5-5 and last in their division and Green Bay is 4-6 and third in their division, ahead of the Chicago Bears. That said, Philadelphia is better than their record and Green Bay is worse than their record. Philadelphia has lost three of their last four, but two were against tough divisional opponents and the third was against the Seahawks. Green Bay is playing so badly in comparison to hype and expectations from early in the season that the Packers aren't packing up the seats at home games, but are rather packing up and leaving any chances of a postseason behind. With such abysmal play from a quarterback who has played at a high level for such a long time, it makes you truly wonder what has happened to Aaron Rodgers and can he recover. Philadelphia's defense stops Aaron Rodgers and his offense and rolls onto a win to keep any playoff hopes alive.