One big party before getting down to studying is the way to describe Mason Day. Overall the day was great, with nice weather, a great turnout, free food, and a concert to wrap it up. The event was well spread out giving people to move around and see all the different activities going on around. Mason Day was located in Lot L, which was nice to consider the parking problems which campus has has lately, thinking back to the circus. There were three large rides for the students to enjoy: A Ferris wheel, a double spinner, and a defy gravity! all of which are very popular rides. When WGMU came the Ferris wheel was in full swing and it was surprisingly fast compared to other Ferris wheels.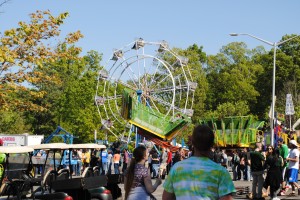 The lines which came from the rides were rather long themselves though this did not discourage others from trying to get the chance to get on the ride. Most students would go together as a group and chat while waiting which would help the time pass. Others would go for the smaller lines or the blow up activities like the basket ball shoot or attempt at getting some of the free food available.
There were hot dogs and hamburgers prepared for the students to enjoy. To accompany there was watermelon, chips, Oreos, and drinks at the main station. Scattered around the event there was p
opcorn, cotton candy, and ice cream.
Everyone seemed that they were enjoying themselves as well as WGMU since we had some of our own performing for the event! If you heard the really amazing DJ between the performances, that was Daniel Albert, one of WGMU's DJs! He did an amazing job with his performance!
WGMU also gave away tickets to the LMFAO concert which is going to be at George Mason's Patriot Center only on June 25! There was also a raffle for the Jason Mraz performance, and the Warp tour given out. WGMU was also happy to hand out some Donald Glover comedy DVDs, WGMU & Mason T-shirts, and a variety of CDs.
There was also a very important person in attendance to Mason Day, George Mason's own President Alan G. Merten.  who came to enjoy the event with the Mason Students. Overall the event went over very well and Mason's students enjoyed the day. Even though the lines were long, the wait was worth it for the food, rides, and memories for George Mason's students.