Kaitlyn Koegler
WGMU Blogger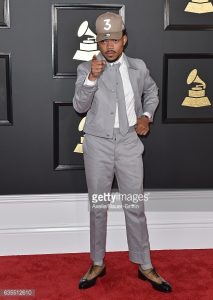 It was an unprecedented event; a rapper with no record label behind him winning three Grammys.
Becoming the first artist to win a Grammy for a streaming-only album, Chance the Rapper (born as Chancellor Bennett), is a 23 year-old rising star with three mixtape releases under his belt.
Releases all pioneered by none other than himself.
Chance, unlike most big names in the industry, is not signed by any record label, releasing his music on Soundcloud to avoid the restrictions that come with being signed to a huge company.
Not to say that he isn't wanted by any; he is. Big time. Pagesix reports that the artist is reportedly turning down 10 million dollar offers just to stay out of what he believes is a pointless deal.
"It's a dead industry," said Chance to Rolling Stone. "What's an album these days, anyways? 'Cause I didn't sell it, does that mean it's not an official release?" 
Despite his criticism of labels, he continues to prosper. With 1.39 million followers on Soundcloud and all-star artists like Justin Beiber and Kanye West featuring on his tracks, it doesn't look like Chance will be slowing down anytime soon.
If you're interested in seeing Chance live, tickets for his summer tour are currently on sale at ticketmaster.com. He will be making stops in Bristow, Virginia Beach, and Baltimore.