Nick Colletti
WGMU, Sports Blogger
Friday February 10, 2017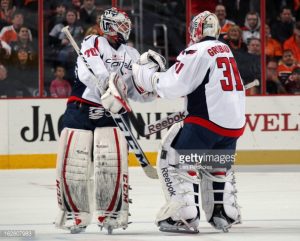 It is without a doubt that the Washington Capitals possess the greatest goalie tandem in the NHL. No other organization has such outstanding depth and versatility at the game's most significant position. Braden Holtby and Philip Grubauer have been lights out and rarely give up any easy goals. Both standing strong in their creases and their Dominik Hasek-like acrobatic agility has been the key ingredient behind some of their remarkable shutouts within the last few months. The team in front of them is playing better than anytime in recent memory, scoring profusely and shutting down teams with strong grit and brutal intensity. But all the players in front of these two great goaltenders are given the energy and confidence they need because of their goalie's stellar play between the posts.
Backup goaltender Philip Grubauer has 10 wins in 15 games with a save percentage of .931. Holtby ranks third in the league in wins with a goals against average of 1.97. Statistics like these clearly illustrate that whom the Capitals have in net this season is very special. Holtby continues to remain a viable candidate for his second Vezina and Grubauer continues to show he can replace other NHL teams starting goalie with ease.
As great as winning in the regular season is, what happens in the spring is what really counts.  A team knowing they can trust their goalies from giving up easy goals and preventing their mistakes from ending up as tally's is a huge psychological necessity a team must have if they want to go deep into the postseason. With these two goalies in the Caps lineup, fans should be confident that this is the year this snake-bitten franchise gets over the hump.