Kyle Kuhn
WGMU Blogger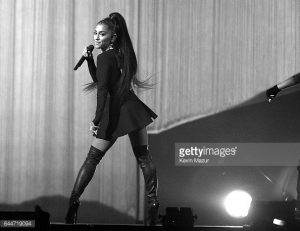 Twenty-three years old, $10 million net worth, and a fan amount equivalent to Beyoncé's, is what we all wish for, right? Well, in 2009, this wish soon became a reality for hit pop star, Ariana Grande. Ariana, now debuting her "Dangerous Woman" tour, has gone from Broadway shows to concerts holding over 20,000 people. From Madison Square Garden to our very own Verizon Center, Grande has always left an unforgettable mark after her concerts. Not only has Grande performed at the Verizon Center previously, but will be returning this year.
On February 27 at 7 p.m., Ariana Grande will bring her "Dangerous Woman" tour to our nation's capital to make her mark and leave her story. Not only will this newly performed tour include hit songs like "Dangerous Woman." "Side to Side," and "Into You" but will feature special guests and much, much more. Following her early 2016 album, "Dangerous Woman," Ariana has themed this tour exactly like the album in hopes the crowd will "play along." She plans to include every song on the album and perform many more hits as well. Ariana says that she likes to incorporate all her new stuff into her set list but also like to play songs that she knows the crowd will remember and like to hear. Not only will she be playing songs from her past couple of albums, but rumor has it that Grande will be debuting songs from her not yet released 2017 album. After posting a video on Twitter back in late November 2016 stating she had a new release coming soon, fans and critics are saying to expect something big this year from the hot star.
Now it may seem that this is just an ordinary tour for any other ordinary professional performer, but this tour has something a little different to it. Ariana Grande and her mother, took on the concert work themselves. After losing her manager in February 2016, Ariana knew she would be out of luck in terms of management for her tour that had already released dates. Grande then decided that she would take on the task herself and make it her own. With the help of her mother, the two could not only produce a concert series, but manage the staff, band and themselves in the process.
Ariana Grande has not only made a wish come true, but has managed to keep herself together, produce tours, and perform like it is a new concert every night. Her "Dangerous Woman" tour kicks off February 14 in Tennessee and then will soon make its way to the District where she will headline and have the famous "Little Mix" as her opener. For more information on this tour and tickets you can go to www.arianagrande.com/tour!
If you are an Ariana fan, WGMU recommends you become a "Dangerous Woman" and move "Side to Side" at a concert you will never forget!