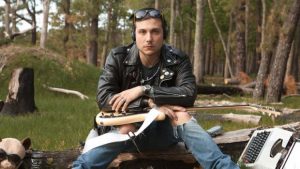 Musician Frank Iero (Frank Iero and the Patience, My Chemical Romance) called in to WGMU Radio to catch up with DJ Matt Dotson, since their last interview in March 2015 (found here). Frank and Matt talked about Record Store Day, humor on social media, Rob Trujillo's son in Korn, and a very special story about Matt's grandma (it involves the picture on the left). WGMU thanks Frank for coming on the station, he's our absolute favorite interview!
Listen to the interview HERE:
You can catch Frank Iero and the Patience on their US tour now. Buy tickets here.
You can buy Stomachaches and Parachutes here.
P.S. – Frank can say all the bad words he wants. We love him.