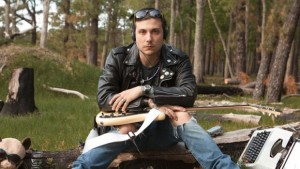 Frank Iero is widely known as the rhythm guitarist for 2000s rock band My Chemical Romance. Since their break up in 2013, he has released a solo album titled "Stomachaches", under artist name frnkiero andthe cellabration. In fall of 2014, Frank and his band went on their first tour supporting Taking Back Sunday and The Used. At the beginning of 2015, they began their first headlining tour. They are playing a show Monday, March 30th, at Jammin' Java in Vienna, VA.
Matt Dotson, host of WGMU's "Up To Eleven", got the chance to interview Frank Iero on his new album, the supporting tour, and other things such as his kids, positivity and Home Alone. You can listen to "Up To Eleven" every Thursday at 2 PM, and hear all sorts of rock music, as well as get a chance to be a featured listener. Follow the show at @UpTo11_GMU.

This work, unless otherwise expressly stated, is licensed under a Creative Commons Attribution-NoDerivs 3.0 United States License.