Kaleel Weatherly
Sports Blogger, WGMU
December 4, 2015
(Photo designed by: Tyson Beck)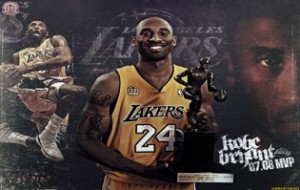 As you all may know, Kobe Bryant is retiring after this season. He had a phenomenal career and will go down as one of the greatest players in NBA history. His will to score and win was apparent in each game he played in.
As a shooting guard, Bryant scored at will, and no one could do anything about it. He could shoot from anywhere on the floor, and his ability to get to the basket was out of this world. We as fans saw Bryant posterize defenders almost every time he drove to the hoop.
With all of that being said, let's look at his career numbers. According to nba.com, Bryant averages 25.3 points, 5.3 rebounds, and 4.8 assists in his career. However, his point per game average would be higher if he avoided all of those injuries he suffered in the last three years. Bryant is a five-time NBA champion, two-time NBA Finals MVP, 17-time NBA All-Star, and was voted into the All-NBA First Team 11 times. He was also the league's MVP in 2008.
Bryant will go down as a top-five player of all time because of his scoring ability. Not too many players in NBA history could score like Bryant. There was nothing on the offensive side of the ball that he couldn't do.
Sure, Bryant did not pass the ball often. Nevertheless, he was and still is the Lakers' franchise player. When we think of players who we deem as "the franchise," those are the best players on the team. In basketball, the team's franchise player is usually the first scoring option. The top scorers rarely lead the team in the assists category.
After Shaquille O'Neal left the Lakers, Bryant had to take over as the primary scorer. He did a great of doing that as well. Even though he never passed the ball much, Bryant's scoring led the Lakers to two NBA Finals victories.
Later in his career, Bryant did start to pass the ball a little more. However, he is and will always be the aggressive, spectacular scorer whom Lakers' fans love. He didn't get the name "Black Mamba" for nothing.
With all of that being said, Bryant will go down as one of the greatest players to ever play the game. There will never be another Black Mamba!