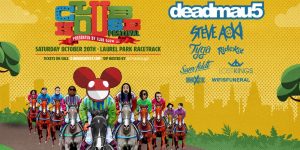 Deadmau5 and Steve Aoki and Rich the Kid – OH MY! You read the flyer right and the line up is as good as you think it is. On Saturday, October 20th at Laurel Park Racetrack, some of the biggest EDM and Hip-Hop artists will come together for Clubhouse Festival. This lineup is presented by Club Glow, a division of Echostage, so no wonder why it is so incredible.
Here are some FAQs that might answer your burning questions:
What is Clubhouse Fest?
One-day festival, tailgate and horserace! Music, food, horse wagering and fun are all waiting for you.
When and where – I've gotta go!
Saturday, Oct. 20th at 198 Laurel Race Track Road, Laurel, MD 20725. Doors open at 12pm and the event ends at 10pm. 
Will the event happen rain or shine?
Absolutely!
You can find more information about the event here!
*UPDATE – Deadmau5 will not be performing at the event. Visit the link above to read more about the changes!
Now here's the real reason why you're here…
WGMU Radio is giving away 5 pairs of tickets to Clubhouse Fest! On October 15th and 16th, we'll be giving away two pairs of tickets on each day. On October 17th, we'll be giving away a final pair of tickets. All you have to do is know the CODEWORD OF THE DAY and get randomly selected to win on our Twitter or Instagram. You'll have to give the CODEWORD to our social media when prompted – make sure you check back here everyday to get the new CODEWORD.
CODEWORD FOR GIVEAWAY:
Monday, October 15: MickeyMau5
Tuesday, October 16: GLOW
Wednesday, October 17: Finishline
*stay tuned tomorrow by 10:30am for the next CODEWORD*
[polldaddy poll=10137338]
You must be a George Mason University student to be eligible to win.