Nick Colletti
Sports Blogger, WGMU
Friday May 6, 2016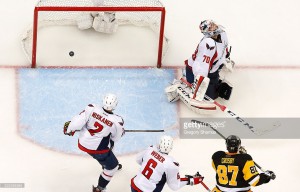 Game 4 would be the most crucial game the Capitals would play all season. In danger of falling in a 3-1 series hole at the hands of the Penguins, the Capitals would have to strike first to gain that treasured momentum. 2:58 into Game 4, Jay Beagle would back hand an impressive roof goal past Matt Murray and would light the red lamp, stunning the fans in the Consol Energy Center. It wouldn't take too much longer for the Penguins faithful to get loud again though when Trevor Daley chipped in a puck off Capitals defensemen Karl Alzner that grazed under Braden Holtby's leg pad and would sound off that terrible obnoxious horn. The first intermission would begin and the Capitals would have to find away to ramp up their offense. This was a necessity if the Capitals were to win against a high powered Penguins scoring threat that was always expected to score at least a goal a period.
The second period would not start in the Capitals favor, again. Matt Cullen on a short breakaway five-holed a goal past Holtby due to an error on the Caps defensive coverage and would steal the momentum from the Washington squad. However, the Capitals were able to tie it when Carlson made an impressive top-shelf snipe that even Ovechkin would envy. The 2-2 score would proceed into the second intermission and gave Caps fans hope that this would be the game that got them back in the series.
The third period was a hard-hitting battle between both squads. Plenty of ill will was displayed and the skirmish that ensued was exactly what you would expect in a Capitals/Penguins playoff game. Both teams were grinding and putting all the effort they possibly could do to get that coveted goal. The goal would not be scored in the third period and overtime would be needed to determine the victor.
The overtime would however be brief and would post results that Washington would never desire. Braden Holtby saw nothing but chaos directly in front of him. With so many players and sticks in the way no one knew where the puck would eventually land. Unfortunately, Max Weber found the puck and attempted to get it out the zone but instead handed it directly to Patric Hornqvist. Hornqvist would then score, devastating the Capitals and dropping them into a 3-1 series hole. This Capitals squad has never given up all year and their chances of making a series comeback is realistic, but they will need to play with immense skill and passion to make those aspirations a reality.