Nick Colletti
Sports Blogger, WGMU
Wednesday May 4, 2016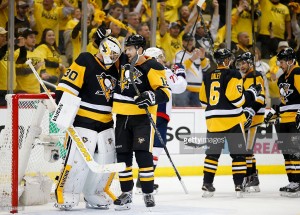 After what was a heartbreaking loss to the Pittsburgh Penguins in Game 2 due to a late goal by Eric Fehr in the third period, the Washington Capitals would have to create some momentum in the series as it shifted to the Steel City. The first few minutes of the first period started off decently for the Capitals. Offensive zone presence and winning battles gave Caps fans hope that the first goal would be theirs. However, 6:37 into the game Patric Hornqvist took a shot from the point that found its way past Braden Holtby due to heavy screening and some frustrating puck luck for the Penguins. A minute later a puck would hit the numbers of Tom Kuhnhackl and bounce into the twine, killing all the Capitals' momentum that they desperately needed on the road.
The first period would end with waves of applause congratulating the Penguins on their early lead. The second period would begin and Murray would make impressive saves and be their best penalty killer when needed. Murray looked brilliant in net and if the Capitals were to score it would have to be a battle in the crease and get a dirty goal. The hopes of tying it were again tested as Carl Hagelin took advantage of a Nate Schmidt turnover and buried the puck past Braden Holtby giving the Penguins a 3-0 advantage. The third period would end with yet more applause from Penguins fans whom were feeling comfortable that the Capitals would not muster a comeback.
The third period would start with that same electricity in the Consol Energy Center and would remain very loud. The cheering died down a little when 8:02 in final stanza, Alex Ovechkin roofed a wicked wrist shot above Murray and gave the squad from D.C some life. Consol Energy Center then quieted a little as the Penguins started to shift to a more defensive scheme. With a two goal lead, the Penguins felt no real urgency to generate offense and instead made defense-first plays by just getting the puck out of the zone and shot blocking. The plan had worked for the most part, but after Braden Holtby was pulled and there were six attackers on the ice Justin Williams punished Murray for giving him a juicy rebound and cut the lead to one. Frantic play would ensue for the last minute of regulation but Pittsburgh would prevail in Game 3 and take a 2-1 series lead. If the Capitals want to win Game 4 they will have to come out with the same intensity they had in the third period. Anything less than that will not be enough against the Penguins and a promising season could end to the hands of a bitter rival.