Nick Colletti
Sports Blogger, WGMU
Monday October 31, 2016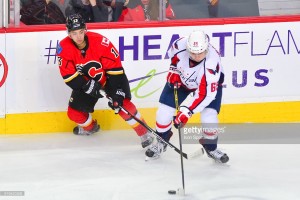 After a thrilling and close victory over the Vancouver Canucks Saturday evening, the Capitals head to the SaddleDome to duel with the Calgary Flames. The Flames, with exciting young talent such as Johnny Gudreau  (whom they expect will be there Lanny McDonald of this generation) skated on home ice looking for two points against their Eastern Conference powerhouse opponents. The game would begin going south for the home team minutes into the contest.
Brett Connolly would score his first goal as a Capital, off a persistent effort to gain control of the puck behind the net by Jay Beagle, who fed the puck right in Connolly's wheelhouse and buried it thunderously past Brian Elliot. The Capitals would get on the scoring board again after a brilliant pass from Alex Ovechkin was deflected by Marcus Johansson in the slot. This quick two-goal strike quieted the Calgary faithful and gave Washington the coveted momentum every road team reaches to achieve game-in and game-out.
The SaddleDome would get louder however after Mikael Backlund wristed the puck past Braden Holtby and cut the Capitals lead in half. The Caps protested immediately that defenseman Nate Schmidt was interfered with, leading to the scoring lane that made the Flames' goal easier to capture. The vehement protests would be in vain as the play wasn't reviewable and the goal would stand. The first period would end with the Capitals still in the lead by one. The second period would be scoreless despite the Flames having two power plays that challenged the Caps penalty killing unit.
The Calgary Flames turned up the pressure in the third and possessed the puck longer than the Capitals. Offensive zone time favored the Flames but the Capitals defense stood tall in front of Braden Holtby and allowed only three shots in the third period, all coming from the point. Passing lanes were clogged and the Flames had to resort to weak shots outside of prime scoring spots with little hope of reaching the net. The effective Capitals defense resulted in a well-deserved two points on the road by the boys in white. In the last two games, the Caps have not trailed at any point and have won two out of their last three games on this challenging western Canada road trip. The Capitals will roll into Winnipeg this Tuesday before heading to the Red House for a three-game home stand, where they are awaited by their passionate and beloved fans. One can only hope this momentum can continue as the regular season stretches on into April.