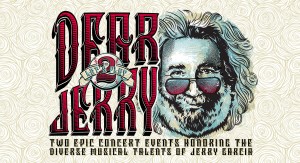 Over the weekend, Blackbird Presents played out two Jerry Garcia tribute shows alongside featured artists to embrace the musical legend's 30 years of work and musical diversity. Last night, Dear Jerry 2 attributed Grateful Dead's Jerry Garcia in a methodical performance that honors the artist who challenged the standards of music up until now. Before showtime, WGMU's Director of Marketing Grant Silvestri and Local Music Director Jackie Reed met with creator and executive producer of the show, Keith Wortman, to talk about the production and development of the Dear Jerry 2 project.
Reminiscent of Friday night's Dear Jerry 1 show at DAR Constitution Hall in D.C., Wortman did feel that the execution of the first show exceeded the expectations in his vision. Wortman says, "…and you saw in the audience last night there was an emotional response to the show," the ultimate generation of energy between how much effort is put into production and how attendees are gratified by it. At last night's show at EagleBank Arena, he hoped that the audience at the show would share the same response as those at DAR.
Usually hosting massive concert celebrations, shows attributing artists like John Lennon, Johnny Cash, and the Neville Brothers, Wortman felt the production of Dear Jerry 2 was one of the easier projects to collaborate. Instead of working with 15-17 artists to produce a large show, this one featured the Avett Brothers and Warren Haynes, a lesser amount of artists to oversee. With a musical network of 200-300 musicians, Wortman refers back to his vision, asking, "What's the right discipline, what's the right sound?" to connect musicians to his projects.
The creator goes on to explain that the assembly of talent for Dear Jerry 2 was at his discretion, in assistance with creative partner Don. The choice to bring the Avett Brothers and Warren Haynes at the EagleBank Arena made sense to Wortman because the audience and the location. The Avett Brothers played at EagleBank six months before, and have a steady following of college students and young adults. Warren Haynes, member of Government Mule, has had years of experience working with Garcia with touring and shows. Though unable to make last year's Dear Jerry tribute show at Merriwhether Post Pavillion, Haynes was able to make up for it by being a lead in last night's show. As for the location, EagleBank Arena acted as a "nexus", a balance between what was possible and what was ideal. Last year's Dear Jerry show was hosted at Merriwhether because Grateful Dead has played there before, so there is a "big market for the consumption of Garcia product," not only recognized by emotional response, but also, by numbers. Approximately 20,000 tickets were sold for last year's show, a huge success for Blackbird. EagleBank was the chosen venue, because of the talent, being the Avett Brothers' following, and because of Blackbird's experience with the D.C. music scene. Their previous show with Emmylou Harris was showcased in D.C. at the DAR, because Emmylou grew up in Virginia and in the area, so it held a particular significance.
The production, timing, and collaboration in regards to the performance made it all worthwhile. Seeing the response and heart viewers had for Garcia was Keith Wortman's primary reason for making it happen. His vision crafted a passionate response in attendees, and that is something that cannot be shaped in any other way.
Website: https://blackbirdpresents.com/
Facebook: https://www.facebook.com/blackbirdmusicgroup/?fref=ts
Instagram: https://www.instagram.com/blackbirdmusicgroup/
Twitter: @BlackbirdProd