Jason Brightman
Director of Sports Programming, WGMU
November 18, 2015
Photo Credit: Getty Images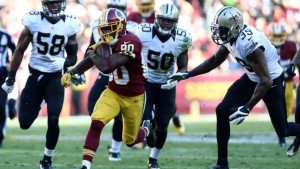 If the Washington Redskins were a family member, they would be that grandparent you have who used to be the best at their job, became old and refused to change with the times, and then, out of nowhere, beat the New Orleans Saints who's quarterback scored 11 touchdown's in the last 2 games. Ok, maybe that is not the case. I am sure we all have amazing grandparents but what the Redskins did on Sunday was truly remarkable. After allowing only a touchdown in each of the first 2 quarters, the hard-hitting Redskins defense kept the Saints from scoring a single second half point – something no other team has done this season.

This is the same team that, until this week, had the 19th fewest points scored per week at under 20. Though Desean Jackson told the media he was 100% and ready to go, it was Jordan Reed scoring on 2 of three catches. Kirk Cousins had a career day; hitting 3 different receivers for 4 total touchdowns and a perfect 158.3 passer rating.

Led by the rushing attack of MOJO, the burgundy and gold were firing on all cylinders – scoring at least ten points in each quarter. Alfred Morris's day was a rejuvenation party for the 4th year running back out of Florida Atlantic; gaining a whopping 6.1 yards per carry. Matt Jones also had an impressive day on the ground, but it was his three catches for 131 yards and a score that really made the rookie stand out.

What about defense? The Giants did score 49 in a losing effort to this same team, because their defense was not good enough. Not the case with the Redskins. Washington held the Saints to only 16 total 1st downs compared to their 23, and with under 200 yards passing allowed. That is how you win football games.

With the win, the Redskins are only .5 games back of the Giants for first place, and after a win like the one the team took home on Sunday, there is reason to believe in Kirk, Jay, and the rest of this rebuilt Redskins team.