Becker Alshowk
Sport Blogger, WGMU
February 17, 2016
Photo credit: (Getty Images/ Nathaniel S. Butler)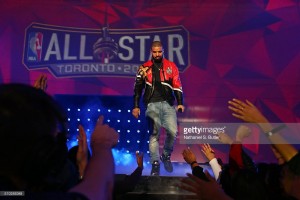 TORONTO, CAN. – Let's look at this year's all-star weekend in how the 'Star Wars' movie series was released, from end to beginning. The major storyline coming into this year's NBA all-star break, was that it was Kobe Bryant's last. Most NBA fanatics wanted 'The Black Mamba' to win the all-star game MVP, which would've been his 5th, and most all time. It would've been a fairytale ending to a legendary career full of highlights for a lifetime. Apparently nobody sent the memo to Russell Westbrook.
The Oklahoma City Thunder star stole the show Sunday night with 31 points. In the process, Westbrook won his 2nd straight all-star game MVP, or how Drake would've put it, winning 'back to back'. Yes a Drake reference was necessary since award winning music artist is technically the 'Ambassador' for the Toronto Raptors, a Canadian native, and the host of  all-star weekend, being that it was in his hometown.
But in an all-star game that defined 'no defense', as obviously as LeBron James receding hairline, with a 196-173 score line in favor of the West, Saturday night was truly the highlight of the weekend.
The NBA Dunk contest coming into the weekend felt like an afterthought. You had the defending champion, Timberwolves rising star guard, Zach Lavine, who dazzled the crowds in a solo dunk show last year, and a bunch of 'under the radar' contestants who average basketball fans probably didn't' even know.
Sure, Andre Drummond has been a force in the resurrection of the Detroit Pistons this year, but what's a 'heavy' big man doing in a flexible and athletic event? Nobody's heard of Aaron Gordon since his days of catching lobs for the University of Arizona as a freshman a few years back. Last, you had Denver Nugget's Will Barton, who would've been on Inside the NBA on TNT's game 'Who he play for?' if it were still going on.
But, the Dunk Contest this year not only exceeded expectations, it may go down as the 'greatest of all time'. Zach Lavine and Aaron Gordon put on a show in the final round, each hitting at least 2-3 dunks that had never been seen, and excited the crowds in a way we haven't seen since 'Half man, Half amazing', Vince Carter, razzle-dazzled fans in the 2000 contest.
Oh yeah, let's not forget the 3-point contest that took place before the dunk contest. The final round came down to who most people expected, the Golden State Warrior 'Splash Brothers', Steph Curry and Klay Thompson. Each breaking 3-point and shooting records on a regular basis the last few years, it only seemed fitting.
Since Curry won it last year, Thompson told reporters before the contest that he wanted to beat Steph 'badly' in this contest. 'Bragging rights' were on the line. Let's jusy say, it lived up to the hype. Klay Thompson captured his 1st 3-point title in dramatic fashion, needing to hit the last shot on his last rack to overtake Steph. He did just that.
But even as exciting as the dunk contest and 3-point contest were, Friday Night's Celebrity game may have even been more entertaining. You had reigning 4-time Celebrity Game MVP, and comedic, Kevin Hart, this time coaching against All-Star Weekend host Drake. Forget who played in the game, the matchups were Team Canada vs. Team USA this time around. And yes, believe it or not, the Canadians beat the Americans in basketball. The 1992 'Dream Team' are rolling over in their graves.
Did I forget to mention that Kevin Hart got ejected about midway through the game?
It was a great weekend none the less. Although the lasting image of Kobe in this year's All-Star Game was him signing Steph Curry's jersey in the locker room post-game, his fellow NBA colleagues made Toronto's 1st All-Star Game, one for the ages.