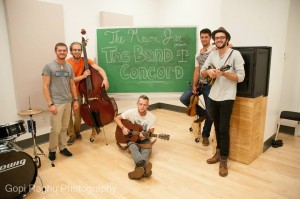 The Band Concord is a local indie-folk band out of Blacksburg, Virginia. Before their recent show at the Jammin Java members Spencer Pugh, Andrew Steger, Jason Agola, Braden Burns, and Alex Winemiller were kind enough to stop by the George Mason campus and record the first ever "Mason Jar Sessions." The stripped down session included original songs "Let Me Talk," "Carousel," and "Husky" from their debut album "Youth," new songs "Allie" and "Red Cars and Kitty Pryde," as well as an incredible mash-up cover of Beyonce's "Irreplaceable" and Taylor Swift's "Fearless." Though performing acoustically, the band was able to create a rich, full sound that embraced the room and stole the hearts of The Mason Jar team. I have no doubt that their music and these videos will do the same to you.
Watch the video for their song "Let Me Talk"
Be sure to follow The Band Concord on Facebook, Twitter, Instagram, Youtube, and Spotify @TheBandConcord for updates on new music and tour information!
Also, if you are interested in following The Mason Jar Sessions to discover more local bands, you can find us on Facebook, Instagram, and Youtube @TheMasonJarGMU.
Watch more videos from the session: