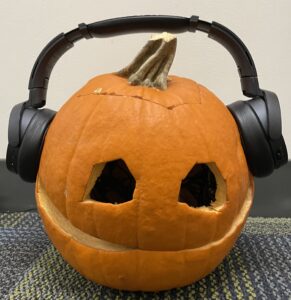 Good day, friend! I hope you're doing well.
I've been busy the past few weeks with midterms and other assignments, but I've still found the time to listen to music. It's my job, after all! 
I'm known as a horror nut to my friends and family. My obsession began with reading R.L. Stine's "Goosebumps" books in elementary school, watching all the "Friday the 13th" movies as a teenager, and finally, now, professing my love for John Carpenter and Guillermo Del Toro to any person who even mentions Halloween.
So, since we're T minus six days until Halloween, I'd like to recommend five tunes or, as I like to call them, "Spooky Tones to Rattle Your Bones."
The Blob – The Five Blobs
I have a soft spot for cheesy horror movies from the 1950s and 60s. One of those films is The Blob (1958), starring Steve McQueen in his film debut. Among other fun facts about the film, I always love to point out the movie's theme song, also called "The Blob." The song, written by Mack David and Burt Bacharach (yes, THE Burt Bacharach) and performed by a group of studio musicians brought together by Bernie Knee, is a novelty jazz-pop tune that won't make you "rattle your bones." Nonetheless, it might just tickle your funny bone.
2. Say the Name – clipping.
There's been somewhat of a renaissance of the hip hop subgenre "horrorcore." In my opinion, this started mainly through the group "clipping.". Fronted by Daveed Diggs of Hamilton fame, the group's last two albums ("There Existed an Addiction to Blood" and "Visions of Bodies Being Burned") are best described as leftist Death Grips after a horror movie marathon. "Say the Name," in particular, retells the story of the 1994 modern classic Candyman. Like the film, "Say The Name" is almost untouchable and is one of the few songs I would compliment as sonically horrific. Though this isn't as well known as some other songs on this list, I wouldn't be surprised if "Say The Name" becomes clipping's magnum opus, an entire horror film in a five-minute sonic experience.
3. Bela Lugosi's Dead – Bauhaus
Not many artists can claim they invented an entire subculture with only their first single; Bauhaus can. Released in August 1979, "Bela Lugosi's Dead" is often cited as the first gothic rock record. Bauhaus combined Joy Division-style post-punk with Jamaican dub, creating an eerie yet psychedelic atmosphere. This mood fits well with the droning rhythm for the near-10 minute song. While the lyrics mention typical imagery associated with Dracula, vocalist Peter Murphy takes the chorus lyrics to a new level with the assertion: "Bela Lugosi's dead/Bela Lugosi's dead/Undead undead undead/Undead undead undead." In my opinion, this song not only honors the late Dracula actor but immortalizes him in the listener's ears. After all, what is undeath if not for existing beyond your life's end? 
4. Dragula – Rob Zombie
I shouldn't like this song, as I'm not too fond of Rob Zombie's horror movies. However, something about this song just does it for me. The combination of Nine Inch Nails style industrial rock with an Alice Cooper-esque shock rock aesthetic? Marvelous. I also appreciate the song's title for its reference to The Munsters, as "Dragula" was the name of Grandpa Munster's car. Speaking of The Munsters, Rob Zombie is currently directing a Munsters movie to be released sometime next year. I wonder if he'll play this song… 
5. Nature Trail to Hell – "Weird Al" Yankovic
Similar to "Monster Mash," "The Purple People Eater," and the previously mentioned "The Blob," the last track of "Weird Al" Yankovic's second album is a humorous horror-tinged romp. Specifically, "Nature Trail to Hell" is a light-hearted pastiche on the endless slasher sequels that filled the 1980s. According to a 2014 Reddit AMA, Yankovic stated that this isn't a stylistic parody but rather a song that best encompasses his original songwriting style. However, despite what he says, I think it's a lyrical imitation of Michael Jackson's "Thriller." If so, it'd bookend the album perfectly, as the first album track is Yankovic's iconic "Eat It," a Michael Jackson pastiche. I'll let you be the judge.
I hope you enjoyed reading this list of Spooky Tones to Rattle Your Bones. This Halloween, I'm planning on getting together with friends and watching some scary movies. I'm going to dress up as the Wolf Man from the 1941 film. I'm very excited to see how it'll turn out.
There will be new content posted to WGMU every day, so keep us bookmarked! Until next time! Excelsior!