Dan O'Brien
WGMU, Sports Blogger
Thursday December 1, 2016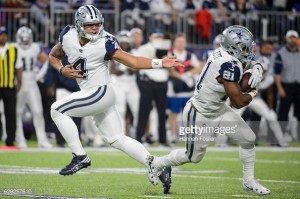 Dallas Cowboys 28 @ Minnesota Vikings 13
The unexpected rise of Minnesota has been followed by an unexpected fall. The play that they have had in the past month has been mindboggling in comparison to what they were doing previously. They looked to be one of the conference's best, but now look like they won't make it out of the division and into the playoffs. The Vikings still have a great defense, but that's not getting them through the tough games they have to face every week and I don't expect this week to be any different. The Dallas Cowboys have been utterly dominant in nearly all of their games, with their one loss coming by a one-point loss to a New York Giants team in week 1. I favor the Cowboys and I just don't think that Minnesota will be able to solve their problems to win this game or to make it into the playoffs.
Detroit Lions 27 @ New Orleans Saints 20
The Detroit Lions are an interesting team because of how drastically different they are now from early in the season. They started out the season 1-3, even losing to the Chicago Bears, and looked as though they could even compete with the Chicago Bears for the NFC North team to be the quickest to go down south. They have won 6 of their last 7 and they have a very good opportunity to win an NFC North that has been very different from preseason expectations. The Lions have a lot of momentum while the Saints have a lot of inconsistency. Matthew Stafford is playing better than expected and he leads the Lions over the Saints as they fight for a place in the playoffs.
Los Angeles Rams 14 @ New England Patriots 20
Typically, a matchup like this would look exceptionally favorable for the New England Patriots, especially at home. However, there have been some atypical aspects to this season for the New England Patriots, whether it be performing better on the road than at home as well as losing Rob Gronkowski for the season. The New England Patriots at home are no joke and have dominant performances as the winter months arrive, but there are reasons the New England Patriots should take this game more seriously. The Patriots are dealing with no Rob Gronkowski as well as a sub-100% Tom Brady and they very easily could overlook the L.A. Rams who have the potential to play spoiler. The L.A. Rams have some surprisingly good plays and show that they have some long-term potential, but Tom Brady gets a needed win to help the Patriots get a great seed for the playoffs.
Denver Broncos 45 @ Jacksonville Jaguars 10
This game has the makings for an absolute slaughter, since Denver is coming back from a close loss that will be discussed for a long time. The Denver Broncos might not make it into the playoffs, but they will fight in games like this to make sure that doesn't happen. Denver's defense will show its true colors with big plays and maybe even a defensive score, showing they can be successful, even with an injured Trevor Siemian sitting out. Expect this Denver team to stake their claim to get in the playoffs, even with two legitimate teams ahead of them in a division with about as many total losses as the Cleveland Browns.
San Francisco 49ers 33 @ Chicago Bears 17
This week is a week with many teams fighting for playoff spots, whether that be in the form of wild card spots or at the top of a division. This game has nothing like that. If this week is a five-star restaurant with all of the competitive games to be watched, this game is the dumpster out back where the remains get dumped. This could be an ugly game since both teams combine for only 3 wins, a feat that would likely have a team stuck in last place in a division, 3rd if they were lucky. Although the Bears could get a slight boost by playing at home, the 49ers have some momentum off a competitive game last week that was decided in the last minutes. I give the 49ers the edge in this competition that resembles a race between a tortoise and a snail, due to it being slow, ugly, and absolutely uncalled for.
Houston Texans 17 @ Green Bay Packers 27
This game would have been very exciting and very different early in the season, since both teams had many reasons to shine early on. However, both of these teams have lost most of their shine and are showing signs of rusting. The Houston Texans have not met early expectations with this season, only having 3 wins in the last 7 weeks, all of which came against weak AFC South opponents. The disappointing play along with the severe injury to JJ Watt are reasons enough to worry, but they have more to worry about with the Titans playing better and the Packers showing signs of life. Aaron Rodgers, even with all of his team's faults, has been playing better recently and will lead his team to a win to keep his team alive for the playoffs, while the Texans are at risk of being lassoed away from the divisional title.
Kansas City Chiefs 30 @ Atlanta Falcons 27
Like many games this week, this game could really go either way. Both teams here are sensational with great records and this game is an opportunity to get one step closer to a playoff spot. The Atlanta Falcons have one of the most explosive offenses in all of football right now, but their lack of a tough defense is certainly a cause of concern. The Kansas City Chiefs have rarely lost this season and I don't think that will change with this game. The Atlanta Falcons have a strong performance, but are simply outplayed by the Kansas City Chiefs who are fighting tooth and nail to get out of their division and into the playoffs.
Miami Dolphins 20 @ Baltimore Ravens 13
This game is very interesting to analyze because Miami has a 6-game winning streak, but Baltimore is no joke and going into Baltimore is no cake walk. The Ravens have a great defense that has not gotten the attention it has gotten in previous years because of a lack of Ray Lewis and Ed Reed, but still has leadership in the form Terrell Suggs. That said, the Ravens do have problems with consistency as well as having powerful weapons winning decisive games. The Dolphins have typically been a team that turns high preseason expectations into a disappointing season, but this season is something different. The Miami Dolphins have momentum and could quite potentially make it out the division in a Wild Card spot. Their running game will help them fight for it as they beat the Ravens in a tough game.
Philadelphia Eagles 16 @ Cincinnati Bengals 7
The Cincinnati Bengals have had a surprising season so far, but in a much more somber and disappointing tone in comparison to the surprising success of other teams. They are playing so badly that only a few wins separate them from the winless Browns. They aren't playing for a realistic opportunity to get into the playoffs, but rather to not completely disappoint their fan base. The Eagles have not been playing well recently, as Wentz has lost much of the momentum that he had early in the season. Although he started out with high praise through the beginning months of the season, that high praise has turned into low expectations. That said, the Eagles play a physical game and a defensive battle to hold onto whatever shred of hope for a playoff berth they might have.
Buffalo Bills 17 @ Oakland Raiders 31
Oakland has many things going for it going into week 13. They have a five-game win streak, a lead in one of the most competitive divisions in football, and a reasonable expectation to get into the playoffs. Through an explosive offense that is being led by young players, the Oakland Raiders are one of the highlights of the NFL. This week is a great opportunity to show dominance on a sufficient opponent, while making a statement for the entire league to witness. While the Buffalo Bills are fighting for a wild card spot, they haven't been playing consistent enough against good opponents to appear playoff ready. The Oakland Raiders appear ready for the playoffs and are already on a voyage to win the AFC West. They win this game with lots of home support and begin to be talked about in the same manner as the Patriots and Cowboys have been this season.
Tampa Bay Buccaneers 31 @ San Diego Chargers 24
The Buccaneers have had some very good games, even though they have been under the radar and those wins have not gotten a lot of coverage. The last two weeks, they faced both the Seahawks and the Chiefs and won both of those games. This is not to say that the Buccaneers are going to the Super Bowl to go against the Patriots. They probably won't even make it to the playoffs as they won't catch up to the Falcons and there is no space for them in a wild card spot. It should be noted that they could get go on a 4-game win streak with a win here, which is a rare sight to Bucs fans, and they will win a close, yet entertaining matchup with San Diego.
New York Giants 20 @ Pittsburgh Steelers 24
New York has been playing great football in the past month and a half, having one of the longest win streaks that they have had in nearly a decade. There has been good defensive play from them so far this season and many Giants fans that were used to close defeats in prior seasons are slowly being accustomed to close wins. Their efforts have not gone unnoticed and they might even be rewarded with a playoff spot if they win enough games in the next month. However, the Pittsburgh Steelers, though they have their problems, are an incredibly difficult opponent at home, especially in December. The Pittsburgh Steelers will squeak out a win and keep playoff hopes in their grasp, while the New York Giants get dealt their first loss and will need to bounce back to get into the playoffs.
Washington Redskins 27 @ Arizona Cardinals 16
The Arizona Cardinals do not appear to be an awful team on paper, as they are 2nd in their division and they are near .500. However, they are 2nd in a division where the only legitimate contender to go to the playoffs and be threatening is the Seattle Seahawks. They also only have four wins and they have all been against the worst teams in the league. Overall, there are many reasons that Cardinals should be disappointed and this game will serve as another reason. The Washington Redskins will come in fighting for a wild card spot and will win against a hopeless Arizona team.
Carolina Panthers 17 @ Seattle Seahawks 20
The Seattle Seahawks are coming back from a tough loss and are going to face a challenging team, all of which seems alarming. That said, there are reasons that Seattle should be excited heading into December. They are atop their division and have no realistic threat of losing that, barring devastating injuries or a strong, but late surge by another team. Last week was disappointing and shocked the league, but Seattle will be at home and this home field advantage is one of the best in the league. Carolina will play to win to fight for relevancy and respect, but Seattle will play to forget last week and a decisive win will do just that.
Indianapolis Colts 30 @ New York Jets 20
The New York Jets are coming off a loss to New England, yet it was much closer than was expected, which is encouraging. However, this is still a team that doesn't have a franchise quarterback, which is one of the most important things to have in this league, along with 11 players on your side of the field and a turf field to play on. The Indianapolis Colts certainly have their problems, with Andrew Luck not improving steadily as he typically did. However, they have reasons to believe they can make improvements as an organization next year, knowing what is wrong and how to fix it. The New York Jets have a lot to fix and I don't see them duplicating the toughness and competitiveness that they produced last week against a hated divisional rival.