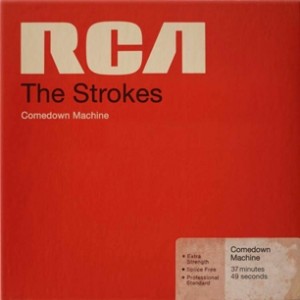 The Strokes
Comedown Machine
RCA Records, March 26 2013
Reviewed by Greg Grunzel (DJ Baby Duck)
One thing is for certain: Jules loves the 80's. Proverbial kings of the 00's garage rock revival scene, The Strokes' latest effort Comedown Machine bleeds 80's more than Eddie Murphy's bright red leather Delirious jumpsuit (humorous side note: the minimalist album art coincidentally is the same color). They are proud to announce it, too, by naming the almost-title-track 80's Comedown Machine, a slow, dreamy croon along the lines of Call Me Back and Ask Me Anything from the previous two releases. The very Aha-esque One Way Trigger epitomizes the new sound and takes it to the extreme. Highlights (and potential future singles) include the danceable Welcome to Japan, and the currently-stuck-in-my-head Happy Ending. They even get weird and throw in the slow, sounds-like-its-played-through-a-trasistor-radio, almost-bossa nova Call it Fate, Call it Karma to close the album. To sum it up, if you're a fan of The Strokes and even slightly enjoyed 80's new wave (a la Talking Heads) like I am/did, there isn't a skippable track on here. But if you're looking for Is This It, this isn't it.
Being an avid Strokes fanboy since I could consume my own music independently, I was very excited about this release, as I was for Angles, even if I had to wait 5+ years for it. I've read the reviews so far, and there seems to be a common theme: everyone is asking, "Is this it? (pun intended)" There seems to be a general sense of (at least) slight disappointment with this record in that they aren't getting another Is This It, The Strokes' highly acclaimed debut. But here's the thing: there already is an Is This It and even a direct sequel, Room on Fire. I've heard reviews say that creative control should be pried away from Julian because this sounds so much like his solo effort, but he's gone on record saying that he was a mega-stickler earlier on and started giving up control to the rest of the band collectively more recently (First Impressions Of Earth and on). Regardless, it's natural for bands to change and grow over time. If you want a band that just pumps out the same sound over and over, listen to Cake (disclaimer: I enjoy Cake's music, but there's a reason they didn't escape the late 90's).
Here's something I've noticed with the band over time, and I may be sent to the gallows for this claim: The first record, while undeniably incredible, yes, sounded somewhat reserved. Julian NEVER stepped out of the veil vocal distortion (until First Impressions). And there was never anything particularly groundbreaking about it, musically. Very good, tight rock songs, but that's it. But it was their first record. Despite all the success and acclaim it got them, it was their first record. They didn't start to toy with new things until First Impressions of Earth, for whatever reason (demanding fans/record labels), and up through that release, there was a noticeable frustration in their sound, screaming and crying, "How long must I wait!" and "I've got nothing to say…" Then, after that, they went on hiatus, did their own stuff, and came back with Angles after countless delays, with a new sound: Dynamic, even upbeat at times, and Jules revealed something (as he did with his solo record as well): HE HAS RANGE. But still fans and critics cried out, "Is this it!?" The boys on this new record seemed to appeal to the fans with this point of view with the single All the Time (watch the video below), a more straightforward pop-rock tune (see: single) and to some extent the punk-ish 50/50, as if to say, "There, happy?" But then stubbornly followed with, "That's all you get," and went about their way.
Whether you like it or not, and even if they've added synths and filter swells and sweeps, and a little (okay, a lot) falsetto from Julian's distinctively listless baretone, this is still very much The Strokes: tight, deliberate groove from drummer Fab Moretti, staunch, powerful bass lines from Nikolai Fraiture, with Nick Valensi's and Albert Hammond, Jr.'s guitars weaving in and out of all of it and each other. Every member has his distinct sound and place in the mix, equally represented to the keen ear, even Nick and Albert. The Strokes have always been a sort of musical communism in that way (see: red album cover), and even when they've added more sounds or changed instruments to sound different (Nick and Fab making their guitar/drums sound electronic. Something they've done from the beginning, by the way. See their first single, Hard to Explain), one can pick each one out and identify them fairly easily, a staple, in my opinion of their sound. This record is still very much The Strokes, but they've evolved. There isn't a thing wrong with that. I certainly don't think so, and they don't either.
The Strokes have always been apt to do their own thing, regardless of what anybody wants from them (something I personally find very respectable in today's music industry), one of the things that made them so successful in the beginning. But the problem with ushering in something new is, after a while, the novelty wears off (The Hives who?). I think the boys caught on to this before any of their fans or critics did. They're starting a new revolution. I said this when Phrazes for the Young came out: a new wave of electro-pop is coming and Jules is doing it right (Lady Gaga, etc. are doing it wrong). This isn't exactly The Strokes you want, but it's The Strokes you deserve. And, despite your gripes, it's The Strokes you're getting.
Recommended tracks: All The Time, Welcome to Japan, Happy Ending, Slow Animals
http://www.youtube.com/watch?v=TJC8zeu3MHk