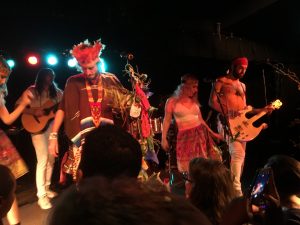 Sasha Toophanie, Music Director
On April 7th, 2017, Washington D.C.'s Black Cat was humming with anticipation for Crystal Fighters! The electronic/folk band hails from London and their third studio album, "Everything is My Family" released October 21st, 2016. Crystal Fighters have gained a loyal following since their first album release in 2010, and much of their DMV fan base supported the UK band.
Machineheart opened the show with a phenomenal set, including tracks like, "Stonecold", "Best Thing", and "Speak". Electric energy poured from the artists into the crowed and the pit could not get enough of Machineheart! They used the smaller stage to make the set more intimate between themselves and the audience. Despite one minor technical difficulty, Machineheart created an incredible atmosphere for Crystal Fighters.
After intermission, six men and women dressed in Native American garb began chanting as they took the stage. Sebastian, the lead male vocalist, waved a bundle of leaves at the crowd and began their set with, "Follow". The interesting approach to their set stirred an outburst of adrenaline among the audience, and a surge towards the stage encouraged Crystal Fighters of their support. That opener was followed by 15 additional songs like, "LA Calling", "I Love London" and "Everything is My Family", and an encore. The unmistakable energy the audience produced for Crystal Fighters will be one for the books!