Kaitlyn Koegler
WGMU Blogger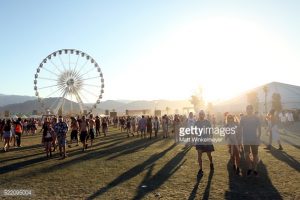 Under the beating sun of the California desert, famous annual music festival Coachella is just around the corner. And, like many years before, an impressive line-up of well-known superstars and rising underdogs will be taking the stage once again to perform at one pop culture's most well-known festivals.
Sporting a huge line-up every year, Coachella spans two weekends in April. And for many that attend or simply track the play-by-play online, the sheer number of artists to check out can be miles long.
Luckily for most there are some artists that stand out just by name. But many others, while not recognizable by first glance, are artists you're going to want to keep an eye on at this year's festival.
Here are three artists to watch out for at this year's Cochella festival:
1. Swet Shop Boys: Forming in 2014, Swet Shop Boys are a hip-hop group consisting of rappers Heems and Riz MC and producer Redinho. Just releasing their very first full-length album in 2016, Swet Shop Boys are new in the music scene. That certainly hasn't stopped them from chasing success, however. Their album Cashmere scored high praise from music reviewers and critiques and with a gig at Cochella soon arriving, we may be witnessing the birth of a rising star.
2. Kiiara: Many that know Kiiara from her smash hit Gold have failed to dig deeper into this 21-year-old electropop princess' insanely solid discography. Her music totes an almost dream-like quality with a certain air of darkness lacing her enchanting voice. Sure, she'll probably perform Gold at Cochella; no doubt about it. But to not know her other tracks is denying oneself quite the musical treat.
3. Glass Animals: A frequent flyer when it comes to festivals, Glass Animals has made a rise to stardom within the alternative rock community. Their 2016 release, Life Itself did relatively well on alternative rock charts. And with appearances at other noteworthy festivals like Bonnaroo and Lollapalooza, this little band from England might just be the next big thing.
Cochella runs from April 14 to 16 and from April 21 to 23.