Nick Colletti 
Sports Blogger, WGMU
Thursday October 19, 2016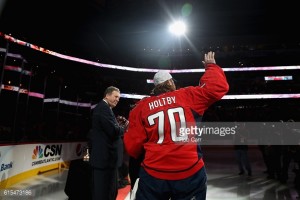 Braden Holtby, who was suited up as the backup goalie for the evening, was celebrated for his previous remarkable Vezina-winning season a season ago. Holtby, who tied Martin Brodeur's record of 48 wins in a season, was praised alongside Capitals owner Ted Leonsis and his wife and two children. The hallowed Vezina trophy was in the Verizon Center as Holtby's teammates and the Washington faithful paid their respects to a goalie enshrined in hockey history forever.
The visiting Avalanche, whom just won an overtime thriller against the defending Cup champion Pittsburgh Penguins in Pittsburgh, were playing a rigorous back-to-back schedule that pitted them against Washington the following night. Another sold-out crowd in the Red House were ready to welcome the Colorado squad into a hostile arena, driven to not spoil Holtby's award ceremony. The fans would get exactly what they wished for.
A 3-0 shutout by goaltender Philip Grubauer gave the Capitals an impressive two points maintaining there at least a point per game streak. But it was a hit by Dmitri Orlov on Matt Duchene that will be the game's most memorable moment. A devastating open ice hip check that caused Duchene to flip in the air and land on the ice with a thunderous crash. This vintage old time hockey collision percolated the crowd and gave the Capitals all the energy they needed to seal this win in the books and head to face the Panthers in Sunrise with confident momentum.
Another riveting slap shot from Ovechkin ended the Capitals power play drought by a goal we have seen hundreds of times from the Great 8. Oshie nailed one past former Caps goaltender Semyon Varlamov in the slot to add another power play goal to the scoreboard. Oshie would later clinch his second of the night by netting the insurance goal that squandered the Avalanche and defeated any chance of a comeback. Perhaps back in the 90's with Avs greats like Joe Sackic and Peter Forsberg on the roster Colorado could have beat two great teams on back-to-back nights. But in the present era, even with a promising young team full of exciting talent, Colorado stood little chance of winning on enemy ice in consecutive games. The Capitals will have their fair share of back-to-back campaigns, 16 to be exact, and the adversity associated with those match ups can wear on any team. With a convincing win over these tired Avs, Caps fans should be excited for yet another promising season to resume and hopefully this year till mid June.