Nick Colletti
Sports Blogger, WGMU
Sunday November 6, 2016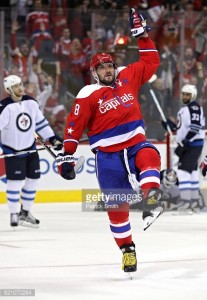 The Washington Capitals, winner of three straight games, skated on Verizon Center ice Thursday to kick off their three game home stand. The second match of a home-and-home with the Winnipeg Jets was just as close and intense as its predecessor. An offensive festival in front of the Washington faithful at the Red House took place with the Capitals gaining the early momentum in their tenth game of the regular season.
Braden Holtby stood tall in the early portions of the game. 11 shot were prevented from denting the twine in the first period, continuing to keep his team in the game as he is done consistently throughout his career. But it was the star power that shined the most for the Capitals. Ovechkin notched two goals, Backstrom obtained three points, and John Carlson provided two helpers to help cement the Capitals two points and their fourth straight win. The two points however, did not come without adversity.
A 3-0 goal lead was nullified by the Jets in the third period, stunning the Verizon Center crowd who were expecting an easy victory for the Caps after two periods of outplaying Winnipeg. It would be the Jets penalty killing unit to add Winnipeg to the score board and back into the game. Jets defenseman Tobias Enstrom tucked the puck into a yawning net that Braden Holtby had vacated after a collision with John Carlson feet away from the goal crease.
5:23 into the third period, Dustin Byfuglien skated around the net in the Jets offensive zone and served the biscuit to Adam Lowry who buried it to make the contest 3-2. Marko Dano would find himself some real estate in the slot and tie the game with a goal that both quieted and frustrating the Washington faithful. The three goal lead was now no more and overtime would be required to determine the victor.
Winnipeg would only hurt their chances of winning in overtime after committing a careless too many men on the ice penalty giving the Capitals a coveted power play. The The infraction allowed the Capitals to play four against three in what would be the pivotal moment of the game. John Carlson found himself with the puck at the blue line staring intently at Jets goaltender Michael Hutchinson, distracting him from the offensive threat that was skating to his right. With a brilliant no-look pass to Alex Ovechkin in the circle, the Captain blasted the puck into the net, winning the game in overtime and igniting the crowd into jubilation and relief.
The Capitals would walk into the locker room disappointed with their effort but were still in good spirits. The Capitals will treat this matchup with the Jets as a model for both reflection and improvement as well as protecting three-goal leads. The Capitals face off Saturday with the Florida Panthers and are determined to skate and pass better than they did Thursday evening.