Nick Colletti
Sports Blogger, WGMU
Friday April 22, 2016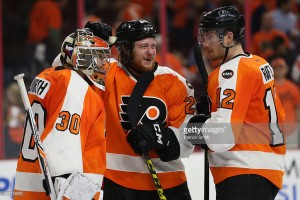 The Capitals have failed to sweep the Flyers as the series shifts toward a Game 5 in D.C., where the Capitals will have another opportunity to eliminate Philadelphia. In what was a nasty game Game 3 not only on the Flyers' part, but their fans as well by throwing debris on the ice out of frustration of the Capitals' dominating power play. Game 4 would be a different story with the fans restraining from throwing more objects on the ice and the Flyers being more disciplined.
The Capitals penalty kill unit would be put to task early but would give up the opening tally to a blue line slap shot by rookie defenseman Shayne Gostisbehere. The Capitals have been known to give up the first goal frequently throughout the season and have always possessed impressive resilience that have won them many key games, something Caps nation would hope occur again inside Wells Fargo Center.
Once the second period started however those aspirations seemed to fade quickly. 3:51 into the second period yet another long shot from the point found its way past Braden Holtby courtesy of Andrew MacDonald. The Capitals' first two periods were very lackluster and the urgency that was prevalent in the first three games was clearly vacant in Game 4. Trying to make too many cute passes and not taking shots when needed plagued the Capitals until the third period.
The third period would spark the Caps with TJ Oshie backhanding a shot past Michal Nuervirth 2:38 into the third period giving the Capitals plenty of time to get a tying goal. This was the turning point for the Capitals in Game 4 and gave the visiting squad the confidence to stick with the system that has granted them success throughout the series. For the remainder of the period the Flyers played a less aggressive game and started to instill shutdown defensive schemes that frustrated the Capitals rallying efforts. Michal Neurvirth would continue to stand on his head and make incredible saves thwarting great scoring opportunities for the hungry and vigilant Capitals.
Despite a last period push for the Caps, the Flyers would hold on long enough to force a Game 5 at Verizon Center. Caps Nation remains nervous and would do anything for their beloved team to not have to go back to Philadelphia, or worse have to go through another agonizing Game 7. I believe the Capitals will end the series this Friday, bringing the Flyers season to a close and their passionate fan base endure yet another long summer.