Nick Colletti
Sports Blogger, WGMU
April 1, 2016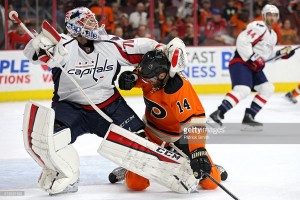 Last Wednesday, the Capitals lost a close game against the Flyers in Philadelphia in a shootout, which closed what was a very nasty and testy game, and perhaps what might be a first round matchup for both teams. Across the league no first round series have been determined and it's still very possible the Flyers may not reach the playoffs. But if they do, they will probably be skating on Washington's ice in Game 1.

The Flyers have played well recently winning 12 out of their last 17 games and have been playing catch-up for months after what was a very dismal start. They have finally put themselves in playoff position and will need to hold on against Detroit to secure that coveted birth. The Red Wings would then end their remarkable 24 straight years of playoff appearances if Philadelphia prevails.

Since the Broad Street Bullies era, the Flyers have had five Stanley Cup Finals appearances but would lose to the like of the legendary 1980 Islanders, Wayne Gretzky's dominant Oilers, and the Chicago Blackhawks, which would be there first Cup of their modern dynasty. The faces of today's Flyers include Claude Giroux, Brayden Schenn, Shayne Gostisbehere, and Steve Mason, all good players in their own right. But the Capitals just simply have more, making the fear of facing the Flyers in the first round not so concerning.
Last night's game was more about sending a message, saying that if we play you in the first round, you better be ready to handle speed and brutality, something the Caps specialize in very well. Yes, the Capitals' lost, but it was in a shootout, a ritual that is excluded from the playoffs and one that won't determine who wins a series. It will most likely be a blood bath between these two teams if they were to meet, which would make it a series I'd be fully confident in the boys in red winning.