Bleu is flying from California to play for
YOU PATRIOTS FOR FREE!


Join DJ Paki-Rican and Bleu for an intimate concert
in "the Hub" in Student Union 2 at
George Mason University.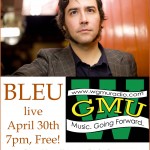 *Bleu has played all over the US and has been interviewed by
many hot names in the music business including "LA Weekly".
You are in for a treat to see him live and please invite your
friends, family and children.


We will have Coyote Grill catering the event and you will
have the chance to hang out with Bleu after the show 🙂
Join the Facebook Event
http://www.facebook.com/event.php?eid=207372235954520&ref=ts

Check out his music at:

AND
Request his album "Four" to be played at
WGMU Radio by calling 703-993-WGMU
REMEMBER TO LISTEN TO WWW.WGMURADIO.COM for the most updated information about this event.
________________________________________
Any questions, e-mail Aisha Hussain, Local Music Director
at
ahussai3@gmu.edu