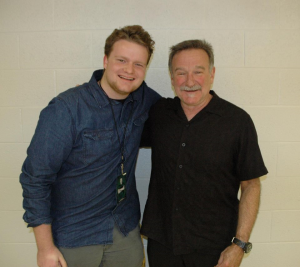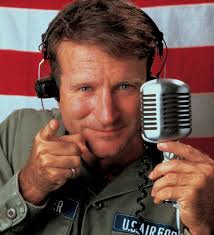 "The Spark of Madness: Remembering Robin", a tribute to legendary actor Robin Williams, by WGMU Program Director Jesse Robinson.
The entertainment world lost an icon today with the passing of Robin Williams. I've seen so many people on social media expressing their sadness, explaining various memories and quotes that his characters brought to life. In memory of this legendary entertainer, I provide for you my own memories and experiences with Robin Williams as a tribute to his amazing career.
The first time I was introduced to the unbelievable world of Robin Williams was shortly after the divorce of my parents. I came across a VHS tape labeled Mrs. Doubtfire and popped it in. Not only did I find the hilarious voices and impressions entertaining, but it also struck a chord of familiarity with me, as the film was extremely relatable to the situation of my parents' split. I remember thinking about how this one funny man was able to take my scenario and find the bright spots through voices and hysterical characters. His performance was able to help me cope with my struggles by finding the "happy medium": Robin's character was so ridiculous and comical as an opening basis for the film, but then he digs deep to the emotional core as the film draws to a close when he answers a letter from a young fan on his educational TV program:
"Oh, my dear Katie. You know, some parents, when they're angry, they get along much better when they don't live together. They don't fight all the time, and they can become better people, and much better mummies and daddies for you…..But if there's love, dear, those are the ties that bind, and you'll have a family in your heart, forever. All my love to you, poppet, you're going to be all right… bye-bye."
Finding "The Happy Medium". That's what Robin Williams did best. His fusion of comedy and emotion was the driving force behind the phenomenal characters he came to portray. Robin could make you laugh out of your seat and have you crying your eyes out moments later. His ability to captivate audiences through wacky characters and voices was one of the main reasons I dreamt of being an actor and impressionist, a dream that, because of this man's work, I still pursue today. When I was 11 years old I wrote him a letter asking for his autograph, and although my handwriting was gruesome and possibly illegible, he returned my letter with 3 autographed pictures of Fender, his crazy, rusty character from the animated film Robots. A few years later, I came upon the opportunity of a lifetime.
In January 2012, I was able to meet the man himself backstage after his stand-up show in Norfolk. It was the fastest my heart had ever raced. To see this person that I'd admired and followed standing directly in front of me was an awe-inspiring experience. I had about four minutes one-on-one with Robin. The night before, my mom suggested I do something to stand out and make myself more approachable to him, so I did. I greeted him with a "Heh-eh-eh, Hehwoh Wobin" in my best Elmer Fudd voice. I had extended myself to the highest degree possible, and rather than giving me a confused look and moving on, he stopped and responded with a "Heh-eh-eh, oh, hehwoh" in his vastly superior Elmer Fudd voice. It worked! I was able to connect with my hero through voices, the very reason why he had become my hero in the first place. I told him how he was such a big influence on my acting endeavors, and he encouraged me to stick with it. Of course there were more impressions as well! I would do the voice of Harvey Fierstein and he would follow with his iconic "Doubtfire" voice. We drew a mini-crowd of the other people in the backstage area. It was phenomenal. As the experience drew to a close, I looked back at him as I walked away. He looked at me and said "Take care, Jess". Those three words, although seemingly insignificant on paper, were said with so much acceptance by one of the funniest and most entertaining men of all-time, that they will stick with me for my entire life.
Dear Robin, you left us too soon, but your antics will live on, forever immersed in the celluloid. A genius of comedy, you taught us how to laugh, how to dream and how to love through your wonderful on-screen performances. You found the perfectly appropriate amount of comedy in a drama, the perfect amount of emotion in a comedy. You told us all about the "spark of madness" and how "we mustn't lose it". Although you are now lost, your madness will be passed down through many generations of stories and memories just like my own memory with you. You accomplished so much, touching the hearts of so many. Now you can rest easy, RW.
"To die would be a grand adventure" – Peter Banning, Hook
Rest in Peace, Robin Williams (1951-2014)
Article by Jesse Robinson, Program Dir. WGMU