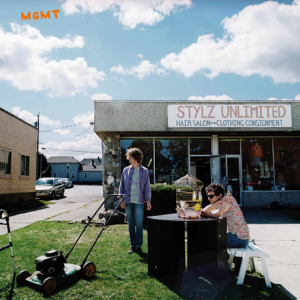 MGMT
MGMT (self-titled)
Columbia, September 17 2013
Reviewed by Jon Howard
After taking the radio by storm in early 2008 with their inarguably catchy synthpop singles "Time to Pretend", "Electric Feel", and "Kids", MGMT faced a tough decision.  Should they produce more radio-friendly synthpop and be lumped in with such bands as Passion Pit and Phoenix, or develop the more experimental, psychedelic sound found elsewhere on their debut album Oracular Spectacular.  Their sophomore album Congratulations was confirmation that the band had chosen the latter route, and as a result was and still is extremely polarizing among the band's fanbase.  Now with the release of their third, self-titled album, MGMT has all but confirmed that they are strictly a psychedelic act now.  If you fell in love with MGMT for their radio singles, turn around now.  This album has nothing to offer you.  If you fell in love with the psychedelic surf rock of Congratulations, however, then MGMT will certainly not disappoint.
The album opens with lead single "Alien Days", starting off with a dreamy synth and a child's voice reciting seemingly nonsensical lyrics before descending into a psychedelic pop anthem that sets the precedent for the rest of the album.  MGMT stuffs the track with so many complex sounds and lyrics such as "When the peels are down it feels like traveling in style / You don't need wings to hover forty ton stones for a mile" that are nearly impossible to decipher that it almost feels like too much even for them.  Yet the bizarre, sprawling track manages to be so engrossing that it's actually quite enjoyable.  "Cool Song No. 2" presents the listener with a dark, jungle-like sound driven by pounding drums and a droning synth bass.  The song is paranoid, almost nightmarish at times, and lead vocalist Andrew VanWyngarden's lyrics reflect the dark vibe: "And like the senses that you're lurking behind / While it gnaws right through to your core / Oh I'd twist it more"  It's becoming increasingly apparent that the band never wanted to be thrust into the limelight, and this track is a reflection of their disgust with their lack of freedom as a pawn of the record industry.  The next track, "Mystery Disease" frantically follows an irregular drum pattern as multiple synths fade in and out.  MGMT mentioned in interviews that they had been influenced by Aphex Twin, and this track certainly shows it.  Featuring robotic vocals and ominous melodies throughout, the song paints a dystopian landscape and continues the dark haunted theme that seems increasingly pervasive on the album.  And just like that, "Introspection", a Faine Jade cover, comes in with a lighthearted, marching rhythm, complete with lofty synths and what almost sounds like a flute solo.  The track would be right at home on an early They Might Be Giants release.  Beneath the seemingly joyful tune, however, the song's lyrics show VanWyngarden struggling with understanding who he really is and what the purpose of his life itself is.   The following track "Your Life is a Lie" builds on this sentiment, even mirroring the previous track in presenting a gloomy message wrapped in a happy, upbeat melody.  This time the message is directed towards the listener.  You have no friends.  Nothing you've achieved actually matters.  God is dead.  In two short minutes, MGMT brings your whole world crashing down around you.  You're not living your life, the song assures you.  You're just waiting to die.
"A Good Sadness" returns the album to a more eerie territory.  The song opens in a trance before unsettling synths and VanWyngarden's ghostly vocals join in.  The rather disturbing track stews in its shoegaze-like melodies while the lyrics break down into a soulless repetition of the same few words until the synths fade out and all we are left with is a high pitched pinging.  Breaking the silence is "Astro-Mancy", a cosmic track that features a tribal rhythm and so many layers of sound that you need to listen to the track multiple times to catch all that has to offer.  According to the band, the track was originally meant to be a pop song like their earlier work, but layer after layer was added to the song until it was no longer recognizable.  In its final form, the track is a dense psychedelic soundscape somewhere between The Beatles' trippier psychedelic experiments and Pink Floyd's earliest work.  "I Love You Too, Death" begins as a complicated arrangement of noises, while VanWyngarden croons "Who is much more than a friend / But never by my side? / All beginnings are an end / In the blackness there's a light." Flutes, pots and pans, and wind chimes are joined by multiple layers of vocals, the deep drone of a synth bass, bells, accordions, maracas, and the gentle strumming of a guitar as the track just builds and builds until it can no longer sustain itself and comes to an abrupt end.  Following is "Plenty of Girls in the Sea", a jaunty tune that could have easily been an outtake from The Beatles' Sgt. Pepper's Lonely Hearts Club Band.  The song is very catchy and positive, instructing brokenhearted listeners that "The trick is to try to be free / And tend to the void, don't just fill it"  The closing track of the album, "Orphan of Fortune", crawls along through an ethereal world of its own design before an explosion of drums and vocals transform the song into a psychedelic bombardment.  And then just as abruptly the track fades away as VanWyngarden gently sings "Lay by me / And we'll erode / As gently as we can / Into twilight"
With their new self-titled album, MGMT has made it clearer than ever that they never wanted to rise to fame.  The band has always seemed very overwhelmed by its sudden stardom, made especially apparent by their uncomfortable demeanor in interviews and performances.   Being the band's most experimental work to date, MGMT shows us a band that desperately wants to get out of the limelight.  That isn't to say that they've made a bad album; MGMT is an incredible psychedelic journey and is easily one of the psychedelic rock revival's most valuable gems.  Rather, the band wants to get away from songs like "Kids" and "Time to Pretend" in favor of more artistically satisfying works like "Flash Delirium" and "Siberian Breaks", and to lose the fans screaming for the former two tracks would be considered just another burden of their fame erased.  MGMT is certainly not an album that makes sense the first time you listen to it.  Nor the second or even the third time.  Yet with each subsequent listen, more beauty, wonder, and understanding await you.
Recommended Tracks: "Alien Days",  "Introspection", "I Love You Too, Death", "Plenty of Girls in the Sea", "Orphan of Fortune"