Nick Colletti
WGMU, Sports Blogger
Thursday March 2, 2017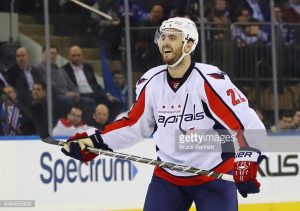 The acquisition of defenseman Kevin Shatterkirk from the St. Louis Blues has given many Capitals' faithful genuine excitement heading into the Stanley Cup Playoffs. A blue liner that can assist on the power play and provide even more depth to what was already a deep defensive roster. Goaltender Phoenix Copley was also a part of the transaction as well, returning to the organization that drafted him.
Multiple high draft picks were sold to buy these players but these are picks the Capitals can afford to lose. Once again a favorite to win the Cup, the Caps had no business selling and GM Brian MacLellan demonstrated his confidence in this squad by locking and loading  for April, and hopefully May and June. His team is playing the best hockey this franchise has ever witnessed, even more so than the Presidents Trophy squad the season before.
The Capitals who currently possess the best record in the league, also have multiple injuries that can hopefully be resolved before the Stanley Cup Playoffs. Andre Burakovsky is nursing a broken wrist and may not return for a couple of weeks. Both Brooks Orpik and T.J Oshie have been bruised up but both are expected to hit the ice in the not-so-distant future.
A major complaint of last year's Caps team was the theory that the team had peaked to soon and weren't in postseason shape when the playoffs began. This year as the playoffs become less distant it seems the Capitals are starting to peak at the perfect time, such as the Pittsburgh Penguins did last year. Emulating the 2015-2016 Penguins isn't a bad idea at all and the Caps should do all they can to play copycat. If they do, few teams pose a threat in their quest for Lord Stanley this spring.