Nick Colletti
Sports Blogger, WGMU
April 12, 2016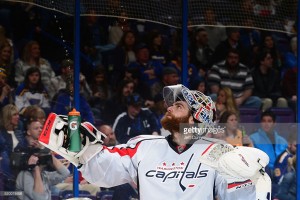 A season this historic for the Washington Capitals cannot go unanswered, with the team reaching its franchise best amount of wins in a single season. Braden Holtby is on pace to beat the legendary Martin Brodeur's record of most wins in a single season with only one to tie it and two to break it. An effort like this by both him and the team in front of him must end with a championship.
The proud franchise that calls D.C it's home has failed to ever drink beer from the Cup and a parade cruising in front of the Capital has long been awaited. A city that is so divided, can be for once united in celebration and the grimacing stain placed on U.S politics can temporarily be washed away. It's been a long time since a Washington team has brought home in Washington, the last being the 1991 Super Bowl Champion Washington Redskins. The Capitals made the Stanley Cup Finals in 1998, only to be obliterated by that years incredible and legendary Detroit Red Wings roster.
Since then, the Capitals have not come close enough to participate in the treasured Stanley Cup Finals, by only getting as far as the second round in their respective conference. The pressure mounted on this year's Capitals squad is immense, but can still be easily handled with the amount of experience of numerous players who have gone deep in the spring before. Justin Williams and Mike Richards have rings and will do whatever they can to give this special Caps team a shiny new one.
Ovechkin's legacy has been cemented as a great individual player with many astounding personal accomplishments, but he will only be considered a true legend if he lifts the Cup. Ovechkin has the best team around him in his entire 10-year long career and will have to score consistently in the playoffs if he truly wants to have his name etched on Lord Stanley.