The Kid Congo Powers Hour                                              
2.1.2013 @ Black Cat in Washington, DC
The Ar-kaics (shirks side project if that means anything) are a 3 piece bass-less garage outfit. Solid 60s revival sound, talking along the lines of "California Sun". Genre appropriate vocals, music punctuated with the right style drumming. After 3 songs, it was a no brainer to go downstairs to the bar & catch glimpses of burlesque ladies coming in & out of the backstage area. Take note, BLACK CAT is now hosting a bi-monthly friday burlesque event.
Alex Minoff (a Quartet) – known for guitaring in Weird War – has got a solid voice, but this stuff is as I described to other attendees, edgy if maybe the audience was a retirement home. Opening number ripped off sections of BACK ON THE CHAIN GANG by The Pretenders, so not off on a good footing. Second song was the highlight, if I heard correct, a ditty titled HARD LABOR that featured some really cool finger picking from the lady stage right. Solid playing, just uninspiring, not much to latch on to song wise.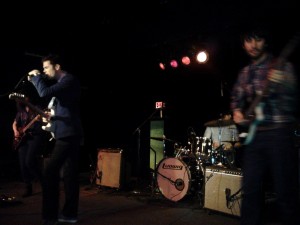 The Kid Congo Powers Hour apparently do a lot of covers. Some numbers had that I WANNA BE YOUR DOG 60s presentation with lots of part a part b part a part b OVER action going on. What wasn't on display was anything progressive  and that was par for the course through the night. It's nice to see Congo center stage, he's got a resume that can't be touched, and what his band collectively does is pleasant enough. There were 2 camps this night. Those who thought it was a fine show, and those who have been to this dance a lot, and just weren't knocked out. I'm in the latter camp across the board. If you like live music, you couldn't per se go wrong catching any of these 3 acts, but yeah, I need more.
-Sean R. Epstein (Sunday's Voice of the Goldfish)
Don Zientara / ShowPony
12​.3.2012 @ Galaxy hut
We'll keep this show review short. Noted local Don Zientara, proprietor of Inner Ear studio, has been playing guitar for what i'd imagine is 40 years. This I forgot to ask. The 11 or so in attendance were treated to a little onstage banter regarding the pope, and his twitter account..conjecture over what size bed he sleeps in, if he has at least a 60 inch TV, and other such query. Don has an assortment of songs for us this warm Monday night covering fictional roadtrips plus odes to photographs, and as he says later in his set, other topics he's not bothering to introduce because no one cares. When you've worked with as many noted artist as Don, and on a night such as this, the point is driven home: NO ONE CARES. Numbers paid aside, Don & his acoustic at times evoke elements of Neil Young, Peter Gabriel & Harry Chapin. Towards the end, we're treated to a little "867-5309/Jenny", the 80s gem. Crowd thinned to 7 plus 2 or 3 behind the bar, local instrumental trio ShowPony deliver their competent blend of Fugazi / Gentle Giant math post-punk. At times danceable, my main criticism would be the hole the guitars are placing the overall presentation in sticking to one preset for every number. Solid band all this said. To close, DC has once again shown it doesn't much care for live music that isn't being touted by the press OR other opinions that matter, and the world turns.
http://www.reverbnation.com/showpony
http://en.wikipedia.org/wiki/Don_Zientara
-Sean R. Epstein (Sunday's Voice of the Goldfish)
Cigarbox Planetariu​m
11.11.2012​ @ Space bar, Falls church, VA  
November 11th will surely go down in 2012 annals as a big big day for area label Dischord in terms of alumni activity. Youth Brigade having their first rehearsal in 32 years. Dischord head honcho Ian MacKaye having his first out of town show as EVENS in 5 years. And for me, catching my first Cigarbox Planetariu​m (the local duo featuring Andy from Dischord's 1989 band FIDELITY JONES) gig in way too long. Andy's works really grasped my attention about 15 years ago with "LISTING ATTIC" which had elements of Wall of Voodoo (including their own Spaghetti Western & Ventures influences) – but now there's also a momentary touch down in to rockabilly (talking Stray Cats) territory on display & more variety. My mom (yeah, they're so smooth you can invite family) felt the gig was a little too loud. I'm damn near giving this a solid A-, and that's only because I feel one or 2 loose ends could be sealed up, i.e. a few endings here & there, maybe a few sections added to 1 or 2 of the pieces but for my money, this is an act to catch. Lounge against the machine & visit their official website www.cigarboxplanetarium.com/
-Sean R. Epstein (Sunday's Voice of the Goldfish)
A Day to Remember and Rise Against
Feb 7th, 2012, Patriot Center.
I feel like the Patriot Center rarely actually has musical artists grace the venue.  I was aware that Rise Against would be playing February 7, 2012 but that wasn't enough to get me to buy a ticket.  I am a fan of one song, and that is the legendary "Swing Life Away," which I feel like nearly everyone knows, but I'm probably wrong.  I was sitting around one night over break and was looking at tweets from AP (Alternative Press), turns out A Day To Remember would be there.  Then I was sold.
I bought my tickets a week in advance and my seat was in row W.  Yeah, almost near Z.  That means I was all the way at the top.  It was scary being so close to the ceiling.  I arrived just in time after scoping out the ADTR fans (you can spot them a mile away: high school/middle school aged, plugs usually neon colored, skinnies, Nike Dunks or Vans on their feet, v necks and or colorful band tees.  This applies for both sexes) to see the opening band, The Menzingers.  They were an alright opening band that received a lot of praise and support from both A Day To Remember and Rise Against.
Before ADTR comes on stage I noticed the balloons over the floor seats (pit), it made me even more jealous to not be in the pit.  ADTR is not the kind of band you see live in seats, you need to be standing, throwing hands, two stepping, helicoptering your arms, and creating walls of death feet away from the stage.  The set change music was exquisite, I felt like I was at the club or in the car with my friends windows down music up.  Good ole' gangsta rap.  They came on and I fell in love with lead singer, Jeremy McKinnon.  He had this charisma and that voice of his made me actually like him.  I have this love/hate relationship with ADTR, as people I hate them, but their songs I can listen to for days.  "Downfall of Us All" started off the set and as soon as I heard the "da da da da da da da da da da da da lets go" I was hating myself for not being in the pit.  They played all of their popular hits and at a point wanted the audience in the seats to get involved, by having all the males take their shirts off, stand up and swing it around their head.  The band did the whole this is our last song ordeal then came back with "Plot to Bomb the Panhandle" (one of my favorite angry songs.)  The balloons dropped and I was sad and jealous of everyone in the pit.
I saw some younger girls leave after ADTR but most of the crowd was still there.  I had no idea so many people liked Rise Against.  I just remember when I was in 7th grade this one music video by them would come on FUSE all the time and I would turn it off every single time.  I was there just for, "Swing Life Away."  I sat through most of their set just sitting and playing on my phone.  But the crowd was priceless, they made me happy.  Everyone was a super fan and they went nuts, everyone was fist pumping at the same time.  I like seeing things like that.  I realized I knew more Rise Against songs than I thought.  Things finally slow down and the acoustic guitar comes out, I was so excited thinking it'd be my song.  No it was another acoustic, slow song, it was beautiful.  Then FINALLY "Swing Life Away" was gracing my ears, I even recorded it on my camera.  I left afterwards and knew the next song that came on (seriously how do I know these songs).
I don't think I'll ever go see a "hardcore" band at the Patriot Center again.  ADTR and Rise Against will be on tour again together in April.
Every Avenue and We Are the in Crowd
Feb 17, 2012, The Empire
Friday, February 17, 2012 was the first time I had been to Jaxx now known as "Empire" in maybe four years.  The last time I was there was for Fairfax natives The Friday Night Boys album release party.  Jaxx had been known for having more "hardcore" types of shows and many less known bands.  I hated the venue but I had been hearing talk about the new look.  I would only go to Jaxx for a band I really liked, they were in luck because Every Avenue, We Are the in Crowd, and the Audition were performing along with other bands on the tour and local openers.  The venue didn't look too different to me, but one thing Empire has that Jaxx didn't was CENTRAL AIR.  If it was a summertime show a Jaxx, you should show up in a bathing suit because it's hotter inside than it is outside, and when it's winter, you better wear the biggest jacket you own.  But NOW I could take off my blazer and be comfortable in a dress WITH cut outs.
I arrived a bit late at 6 PM instead of 5 when the local bands were opening.  I caught the last few songs by Hit This City, a local band with former ABACCAB drummer Navid Naghdi (now in Bet On Black) playing their last show.  This night was completely drama filled, but let's just focus on the music.  Set change music was filled with good ole' rap and the first band on the tour, Simple as Surgery took the stage, energetic young boys, around 19 and 20, from Georgia on their first U.S. tour.   Fresh and cute faces making the entire little girls swoon (I felt like the oldest person there).   Look for these guys on their upcoming tour as supporting acts for Go Radio and There for Tomorrow, they won't be stopping up in NOVA but they will be in Richmond and VA Beach.
With a new EP out and only on a few supporting dates, the Audition followed Simple as Surgery.  The Audition reigning from Chicago hasn't been in this area in maybe 2-3 years.  Lead singer Danny Stevens has a huge set of pipes and he knows how to get the crowd going.  I had checked recent set lists to see if my favorite song by them, "Los Angelos" would be performed, I had little faith, until I heard him say the words, I screamed at the top of my lungs and sang my heart out.
Following The Audition was a more "indie" like band Plug in Stereo.  They had a much softer sound than the bands that went on before them.  We Are the in Crowd took the stage next, I was extremely grateful.  I had tweeted at the band to see if they would be at the show, they were not on the first few tour dates and singer Tay Jardine had been battling a sickness coming off her UK tour with All Time Low.  I had seen We Are the in Crowd a few times last year and looked up recent set lists to know what to expect.  More songs were played than on the set lists and Tay really got the crowd hyped by jumping into the audience multiple times.  Fans love things like that, it gives us an adrenaline rush, everyone just wants to rush to the front from wherever they are just to touch their favorite singer (actually any singer has this effect on the crowd).  The crowd was nuts regardless, the hard wood floor was shaking beneath me when I would go down to the pit and leave my spot on the "balcony."  I'm getting old, front row is a place I rarely visit.
Of course I checked Every Avenue's recent set list as well.  I spent the entire night before the show learning the new tracks on the band's latest album "Bad Habits."  This was a whole new sound for them, edgier and more rock n' roll then melodic and punk pop, "Tie Me Down," is my favorite off the album, which they played of course.  There was a good mixture of songs from the first album, Shh Just Go With It, their sophomore album, Picture Perfect, but with the majority of songs coming from Bad Habits.  I should stop looking at set lists because the bands end up playing more songs.  The boys from Michigan returned to the stage for a two song encore and because Empire is such a cozy venue everyone was out and about ready to sign and take pictures as soon as the live music stopped and Taking Back Sunday filled the speakers again.
Odile Durocher
Kasabian at 9:30 Club, DC
If you've ever been to the 9:30 Club in DC, you pretty much know the drill. The whole venue is an open floor area with 2 bars at each side of the venue a merch table at the back. Seemed like a regular night. But from the moment I sat foot on the main floor in front of the stage I knew I was in for probably one of the best rock concert/rave in a long time. The stage was covered by a series of strobe lights and a series of other gadgets that one would see at your typical Trance music gig. All perfectly aligned with Kasabian's logo perched neatly in the back of the stage hovering over a series of covered instruments and amps. Naturally I was curious.
The night started off easy as the opening band, Hacienda, filled the room with a retro/grunge series of tunes that had you believing Chris Cornell had decided to pair up with Deep Purple and got an urge to just jam away the night.
The crowd grew anxious as the Kasabian stage crew began to test out the light equipment; all with good reason. The lights went out and the room was engulfed with a series of strobe lights moving along to a loud electro and base beat. For what it's worth, here's my take on their noise.
Kasabian is a band that truly jumps away from any other basic genres and throws its own spin into their songs with an Electro/Rock feel while still keeping true to their grunge influences and adding some Folk music here and there.
Their set list included a variety of songs from several of their albums. The crowd was ecstatic as we all jammed to many top hits such as "Days Are Forgotten" and "Re-wired" from their "Velociraptor" Album, "Shoot The Runner" from the "Empire" album, and my personal favorite, "Club Foot" from their self-titled debut album "Kasabian".
Overall, Tom's (lead singer) charismatic stage presence and passion along with Sergio's (lead guitar and backing vocals) massive energy and enthusiasm had the crowd mesmerized and involved.
If I wasn't a fan before, after witnessing such skill in music prowess and fearlessness, I can say that Kasabian is definitely a band that will have me coming back for seconds, or even thirds! So if you ever get the chance, go check them out and let their base filled rock jams fill your soul with awesome. Trust me, that last bit makes complete sense once you're there.
Hugo A. Acuña
"SAXON @ Baltimore's Sound Stage 10.15.2011" by Sean Epstein (Voice of the goldfish)
Last minute decision to join friends on the arduous one hour drive to Baltimore on Saturday 10.15.2011 to see "NWOBHM" genre band "SAXON". If you don't know what any of that is, wiki & google for a quick primer OR I can just say, theyre an 80s band from England that play metal. Saxon potentially best known in the USA for having opened for RUSH 30 years+ ago on a nationwide tour prior to having anything actually available or known here. Their next real blip on the radar was Metallica's Lars Ulrich including them on one of his HISTORY of metal CD compilations & then Metallica tackling some of their songs live. Yes, MTV played these guys here & there, but I never caught any of these promo videos myself.
Expectations were running high personally for any UK long running metal act after August's (also in Baltimore) gig by NWOBHM legends DIAMOND HEAD who gave a 9.5 of a performance – not to mention, actually hung around afterwards to chat with fans. So let's just come out the gate with the contrast and i'll give the bad first. The venue SOUND STAGE doesn't even have a phone number to ask questions – doesnt mention this is an early show on their website – we show up at 9pm sharp & have already missed 6 songs, yeah – i'm irked – it's $25 to get in. I saw this band first for like $8 in 1988, and maybe $20 at Jaxx in 2001. Energy wise, also maybe their weakest yet gig witnessed by me – and this was hyped as this end of the tour blow out gig – well let's have some craziness, can we? Show ends by 10:15, what happened to the 2 hour set promoted at the door? And, after the gig – Saxon after 45 minutes, nowhere to be seen. It's not like attendance was 1000 heads, it was more like 150, come out & meet your fans already. For a band that has over a dozen full length releases, and clearly isnt worn down – can we get more? That's the bad.
OK, on to the good. It's SAXON. SAXON kick ass. Newer songs like "Metal Head", "To Hell and Back" & more than a few tracks off the new "Call to Arms" CD deserve their rightful place in a SAXON live set. This is a band that knows how to handle uptempo metal, and has alot of power & volume on their side at this particular gig to ensure heads bang. The sound was damn good. Getting a good view of the band in action, NO PROBLEM. And the classics, more than a few were delivered such as "Princess of the Night", "Rock & Roll Gypsy", "Strong Arm of the Law" and even the slower tempo numbers "Crusader" + "Denim & Leather" (both Lp title tracks). The line-up is fairly vintage with 2 founder members & 2 more eighties members in the rhythm section on hand. The leads, lots of solid leads – X out that pointless guitar solo…yeah, guitar freaks got what they came for on that front. I'll give it a solid 7 of a gig (on the 1 – 10 scale). So, in the aftermath – i'm retiring from seeing this band – unless I get in free. Of course I recommend seeing them in the future to anyone who hasn't in the past & likes the metal. They still deliver. Just a few negatives like 3 gigs by Saxon where they don't come out – they have me wanting more, and after all these years, now i'm personally going to stay home & listen in my room. This is an ok send off for me & Saxon as we part ways on the live front.
The Noise Tour
After weeks over stressing over how I would get to and from the concert, from Fairfax to The Fillmore in Silver Spring, Maryland, of course I had to get crafty and come up with back up plans since my two concert buddies were not the most reliable young men to make any sort of plans with.  This was going to be my first time at this mysterious Fillmore in Silver Spring, there are metro options however the free buses that transport you from the metro to the venue stop running at 7 PM, obviously a problem since no legitimate concert ends before 7 PM, just maybe the first act has gone on to play 4 songs.  So here I was the morning of the concert, Sunday, October 16, 2011, after arguing with a friend, my game plan was to go to Tysons to meet Mayday Parade (the headliner) and We Are the In Crowd (an opener) at the Journey's.  It was completely free, all you had to do was show up, and the event lasted from 1-3 PM, Journey's is sponsoring "The Noise" tour.  So I meet the band, get my concert bag Marc Jacobs bag signed, am unable to take a picture because there isn't enough time left, and off we go to the Fillmore.  While waiting in line you meet a bunch of interesting characters, some guys are from West Virginia in banana suits who were at Jaxx Nightclub down the street from Mason the night before at an Underoath show, you have your little fan girls in their Mayday Parade and There for Tomorrow band tees, and then you have the very talkative ADD kids who tell the same story 60 times.  But enough about that, let's start talking about the good stuff.
This was a big concert, one night, with five bands, but if you're into this type of music this is the usual, it's cheap and you basically like 3-4 out of the 5 bands playing anyways.  Mayday Parade was the opener, one of my favorite bands, reigning from Tallahassee, Florida (and a little fun fact, they are the most touring musical act in the music industry currently, touring over 200 days out of the year.)  This was my second time seeing them since July.  The opening act was The Make, playing only four songs, with a girl in the band, followed by Sparks the Rescue from Maine, There for Tomorrow from Orlando, and We Are the In Crowd from Poughkeepsie, New York, with an extremely talented female vocalist.
The Make played a very short set, totaling of four songs.  This was my first time ever hearing them or seeing them, I personally liked them, however my friends weren't as accepting until the second half of the set.
Sparks the Rescue came on next.  They were only playing select dates on "The Noise" tour, the first four, and the show I was able to attend was their last day.  I absolutely love them; front man Alex Roy has one of my favorite live singing voices.  Roy, really knows how to put on a show, resembling Tom Higgenson (front man of the Plain White T's) and having the charisma that Adam Lazzara (front man of Taking Back Sunday,) has on stage.  Yes, I'm talking about the swinging of the microphone, tossing it up and down, having it swing circles around his neck, I love it.  STR played two songs of their new album, Worst Thing I've Been Cursed With, three tracks off their debut album, Eyes Set to Sun, including "We Love Like Vampires," which the band has a music video for and "Saco Boys Have No Class," which has more of a hardcore, screamo feel to it than their usual punk pop tunes.  The band, as usual included their cover of Lady Antebellum's, "Need You Now," which is featured on Fearless Record's, Punk Goes Pop 3.  Let me tell you, regardless if you're a pop/country fan or not, this cover is epic, the guitar part in the opening is absolutely ridiculous.
There for Tomorrow had a longer set, playing basically all songs but one that I didn't know.  Also from Florida, these boys put on a show.  Lead singer, Miaka resembles John Stamos, with an incredible voice.  Even as I was playing with my phone, clapping at appropriate times, and playing with my nail cuticles, the crowd went nuts.  The ADD kid I mentioned earlier told me that There for Tomorrow saved his life, they must be doing something right.
Thankfully AP Magazine (Alternative Press) got ahold of We Are the In Crowd's set list and tweeted it earlier in the week before the concert.  I got a chance to see them for the first time at the same show as Mayday in July, while both groups were supporting Baltimore natives, All Time Low on the Gimme Summer Your Love Tour.  I started youtubing some songs and many were catchy, especially, "Kiss Me Again," a single off their album, Best Intentions, which dropped at the beginning of this month.  So I'm dancing and bopping around, singing the words I remember, and there is this middle aged man who reminds me of this doctor on General Hospital and he was rocking out, it was amazing, I couldn't keep my eyes off him.  He was so passionate and just something different, I usually feel like one of the oldest people at these concerts and I'm 19, but this guy knew every word, danced, sang, and he's definitely what I want to be when I grow up, fun.  Tay Jardine, the female vocalist has some pipes, when you hear her and Jordan Eckes (male vocalist, guitarist,) having their duets it makes you wish you did this with your best girl or guy friend (depending on your gender of course.)  I had been receiving tweets, from Alex Gaskarth, front man of All Time Low, and the ultimate fan girl crush about how he was stopping by after the Ravens game.  This has to have been the best part of the night.  During, "Kiss Me Again," my favorite song by We Are the In Crowd this guy comes on stage and starts singing and the girls go WILD.  I had no idea who it was, I even asked one of my friends, seconds later I realized, that it was ALEX GASKARTH, I had never had a bigger fan girl moment in my life.  I screamed at the top of my lungs, was hyperventilating, I ran into the crowd to see him, it had to have been one of the greatest moments of my life.  The next day AP tweeted a link to a video of the cameo and I can pick out my scream from the crowd.  At the end of the night, I had a whole new appreciation level for WATIC.
Finally, Mayday Parade comes on, the band most of us have been waiting for all night.  Even though I may not be "in love," with anyone from the band, I don't own any t-shirts, I don't even have physical copies of any of their CDs, but they have to be one of my favorite bands.  No one writes lyrics like Derek Saunders.  Their songs literally break me.  Every song has meaning, a lot of my favorite bands like Blink-182 (in their younger days,) Cobra Starship, and All Time Low don't usually write songs with such emotion and passion.  I could cry to most of Mayday's songs, the lyrics are breathtaking, they're like no other, I don't really know a band that can touch my heart as much as them.  So obviously I cried during the set but I'll get to that later.  The lighting was epic; so many times I wished I had a Canon or Nikon just to shoot the most beautiful thing I have ever seen on stage.  There was so much energy in the crowd, everyone knew the words, they played a variety of songs and I knew nearly every single one.  Then the crying happened, so Derek's up there talking about how he has a new 7 month old baby girl, and then you see the piano and I know what's coming up.  One of the saddest songs, if not the saddest song I've ever had the pleasure of hearing, and even though it takes everything I have to not cry when I'm in my room, when he's singing to my face, it's that cry where your jaw trembles.  "Miserable at Best," a break up song, a song about being hurt, heartbroken, and just having all those thoughts in your head about a significant other moving on.  And then I cry, and I let everyone know it too.  I would say this would maybe be even better than Alex Gaskarth, I see All Time Low every three months, this is the third time seeing Mayday and I finally get to hear this song.  The show ends with two encores, "Three Cheers for Five Years," another sad one, shocking, and "One Man Drinking Games," both fan favorites, however I had never heard the latter.
My ears were buzzing as I left, and then it was that usual little concert review talk with your friends, the conclusion was that the concert was phenomenal.  Let alone the venue, the nicest one I've been to besides the National in Richmond.  The Fillmore has 3 levels, 3 bars, seating at the top, huge chandeliers, the bathroom is nicer than my bathroom at home, a very modern and classy structure.  The majority of the ride home we continued listening to Mayday Parade.
By: Odile Durocher