Production GANG Director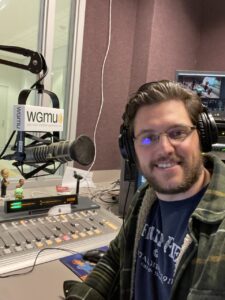 Name: Tom Ozio
Year: Senior
Title: Production Director
Major: Communications
Position Description: The production director oversees the management of all PSA creation and production at WGMU. They manage the production studio, including weekly and permanent scheduling, as well as upkeep of studio computer, sound equipment, and audio files.
What do you love about WGMU: I love having the opportunity to entertain fellow students on the radio by talking about great bands and upcoming concerts.
Hobbies: Playing the guitar and spending time with friends and family.
Favorite Bands/Artists: Tom Petty & the Heartbreakers, Zac Brown Band, Bob Seger, Paul McCartney, White Reaper, David Allan Coe, and Midland.
Follow me on Social Media: Instagram: @TomOzio