Program Director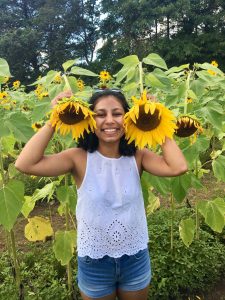 Name: Sasha Toophanie
Year: Junior
Major: Criminology
Title: Program Director
Position Description: The station PD directly oversees the three WGMU Studios: on-air, practice and production. He/she is the primary enforcement of WGMU's Rules, Regulations, and Professionalism Policy. Creating and upholding WGMU's program schedule for the On-Air & Practice studios is another day-to-day duty of the Program Director. The PD is in charge of training all on air staff/students/station volunteers on the on-air studio equipment/procedures. This individual is the handler of 45+ DJs and upwards of 80 hours of programming in a given week of the semester.
What I love about WGMU: I love how easy going and fun the environment is. There is a love for music that attracts everyone to WGMU, regardless of major, personality or age. It never feels like work at the station; it feels like you're hanging with friends, vibing to new music, talking about concerts and upcoming events. WGMU is a family, not just a station.
Hobbies: Beating my dad at mini golf, traveling, writing, reading, arts and crafts, and watching movies.
Favorite Bands/Artists: Miike Snow, Arctic Monkeys, The Neighbourhood, Kygo, Phantogram, The Internet, Steve Aoki