Local Music Director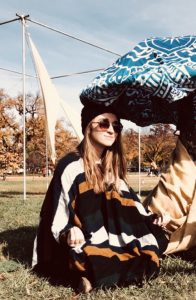 Name: Saige MacLeod
Year: Senior
Major: Communication- Journalism
Title: Local Music Director
Position Description: The local music director is responsible for the local music section of our automated system. They stay in close communication with music and program directors about content updates, and review new local music submissions every week. The local music director is the liaison for all DC, Maryland, and Virginia artists and WGMU Radio. Additionally, they hold weekly programming exclusively featuring the local music content on WGMU.
What you love about WGMU: I love that WGMU is so flexible. You can do a show about whatever you want and have you voice heard. And because of that, WGMU embodies a comfort zone for me, that I can do what I love, which is music!
Hobbies: Exploring DC, finding unique restaurants, Hiking, Going to concerts and festivals, Finding different/unique music.
Favorite Bands/Artists: The Doors, Stevie Nicks, Heart, Geowulf, Angus and Julia Stone, Anderson Paak, Weezer, Amy Winehouse